The Finest Quality Crystals and Minerals - Pretty Little Healing Crystals - Over 7000 Exclusive Healing Crystals From Around The World Order Online Global Shipping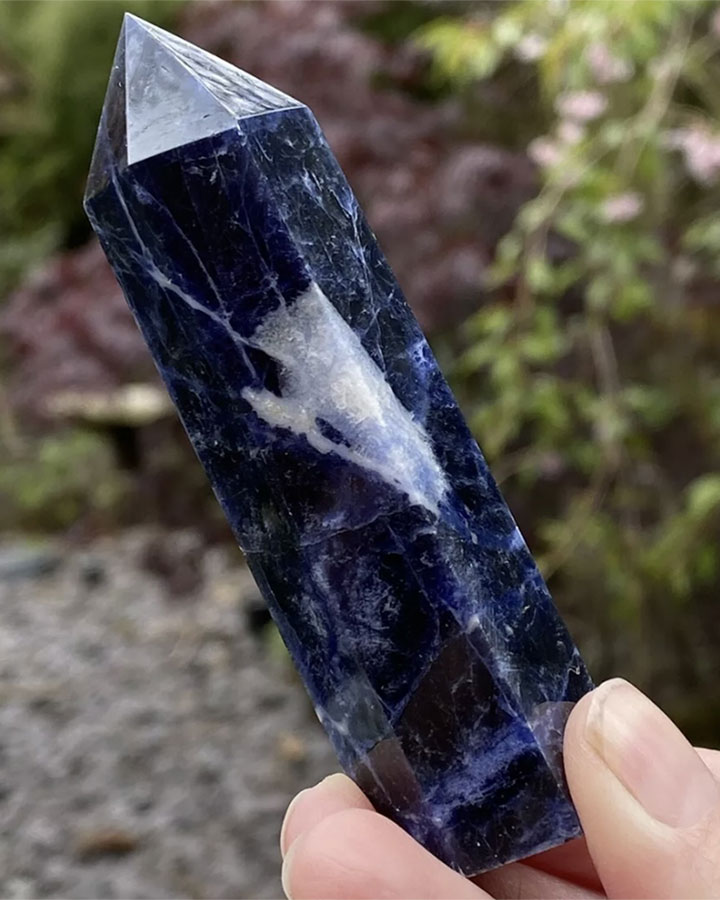 CHAKRA // THROAT, THIRD EYE
ZODIAC // SAGITTARIUS
PLANET // MOON
ELEMENT // WATER, AIR
SACRED NUMBER // 4
VIBRATION // HIGH

LOGIC * INTELLIGENCE * EMOTIONAL BALANCE * INTUITION * CLARITY * TRUTH * PERCEPTION * OBJECTIVITY * SELF – ESTEEM * COMMUNICATION * MENTAL REORDERING * SELF – ACCEPTANCE * SELF * TRUST * CONFIDENCE
THE STONE OF CLEAR COMMUNICATION
SODALITE encourages rational thought, objectivity, truth and intuition, along with verbalisation of feelings. It brings emotional balance and calms panic attacks. It enhances self-esteem, self-acceptance and self-trust. It balances the metabolism and boosts the immune system.

SODALITE helps you communicate clearly, its ability to heal a disordered mind, restoring normal functioning of intuitive perception and encouraging rational thoughts. Sodalite helps with the reception and integration of new information.

SODALITE helps you communicate and express your truth and it also helps others to understand it. If you are speaking without being heard, Sodalite can help you reclaim your voice. When you need to communicate clearly, Sodalite can help, its known as the Poet's stone, Sodalite encourages you to express yourself authentically. The intense blue and white speckled crystal brings a light energy to your words. Its nurturing frequencies help you speak from your heart instead of your head. This crystal fills you with trust, acceptance, confidence and self-esteem. If communication makes you nervous let Sodalites calming effects help you communicate with comfort and ease.

SODALITE can help you find your voice during tough conversations. If your words align with your heart there is little room for miscommunication. Sodalite brings truth and harmony to what you want to say. Rather than shying away from the truth of the matter, Sodalite inspires you to boldly state your needs. It inspires you to express yourself. Use Sodalite to empower your words and the truth behind them.

SODALITE gets its name for the rich sodium content within the stone. It was first discovered in 1811 in Greenland and gained popularity as a decorative stone. Sodalite is a popular stone for jewellery

because it's relatively easy to carve. It is often mistaken for Lapis Lazuli, because of its rich blue tone.

SODALITE is found in Canada, Germany, India, Russia and the USA.