The Finest Quality Crystals and Minerals - Pretty Little Healing Crystals - Over 7000 Exclusive Healing Crystals From Around The World Order Online Global Shipping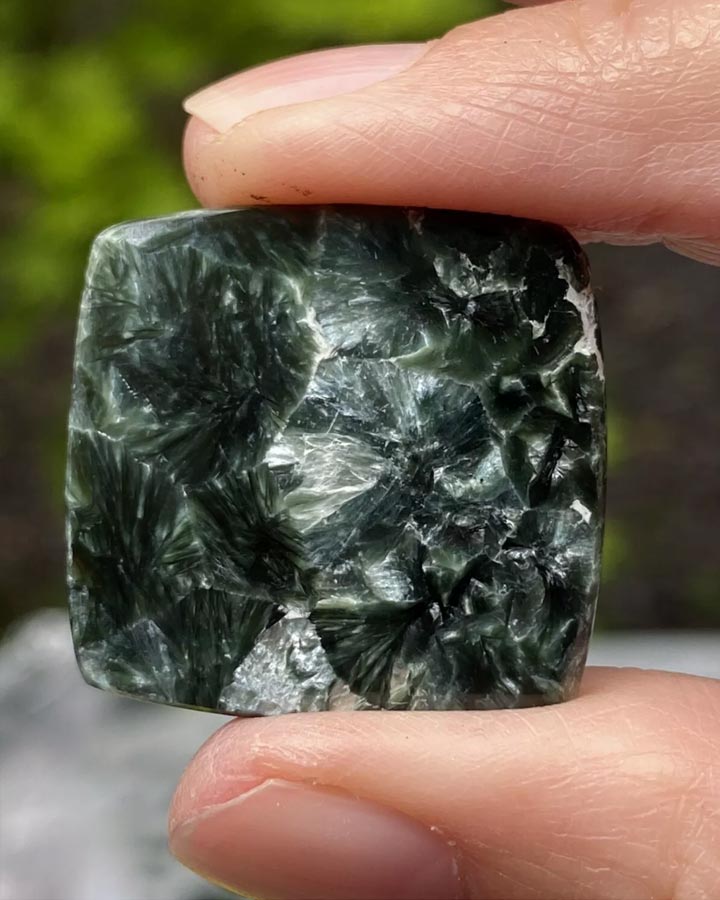 CHAKRA // ALL, ESPECIALLY HEART
ZODIAC // SAGITTARIUS, TAURUS
PLANET // EARTH
SACRED NUMBER // 5, 7
VIBRATION // HIGH

SPIRITUAL ENLIGHTENMENT * SELF HEALING * SPIRIT COMMUNICATION * ANGELIC COMMUNICATION * HIGHER CONSCIOUSNESS * AURA CLEANSING * SOOTHING * CALMING *TRANSCENDENCE * ASCENSION * ATTUNEMENT WITH HIGHER REALMS * ANGELIC HEALING * DETERMINATION * PEACE OF MIND
THE STONE OF SPIRITUAL ENLIGHTENMENT
SERAPHINITE is a stone of Spiritual Enlightenment has a beautiful energy that rises through the body's chakras like six winged spirits of Light. The Seraphim are the highest order of Angels who attend the throne of God. This stone of Angel wings is known for its high spiritual energy, ascending through the chakra system and inviting Kundalini to rise along the spine. It clears and activates each chakra along the way. It links the physical and the ethereal and is powerful at opening communication with the Devic and Angelic realms.

SERAPHINITE puts us into contact with the angels, the Divine Feminine and nature spirits. Cleansing and self-healing due to its high chlorite content, Seraphinite's transcendent, ethereal energy assists spiritual enlightenment, grounding expanded awareness into the physical plane. It releases emotional patterns and habits that no longer serve soul and spirit. Seraphinite smoothes social contact and facilitates understanding between different cultures.

SERAPHINITE is a trade name for a particular form of clinochlore, a member of the chlorite group. Seraphinite acquired its name due to its resemblance to feathers due to its chatoyancy. Seraphinite is named after the biblical Seraphs or Seraphim Angels.

SERAPHINITE was one of the stones that first connected me with crystal healing. I felt alone, although there were people all around me and its Divine Energy made me feel the connection with the Angelic realms and I realised I wasn't alone, I would never be alone. I have faced tough times since but the lesson with Seraphinite was one of my most valuable and life affirming.

SERAPHINITE is found in Lake Baikal in Russia.