The Finest Quality Crystals and Minerals - Pretty Little Healing Crystals - Over 7000 Exclusive Healing Crystals From Around The World Order Online Global Shipping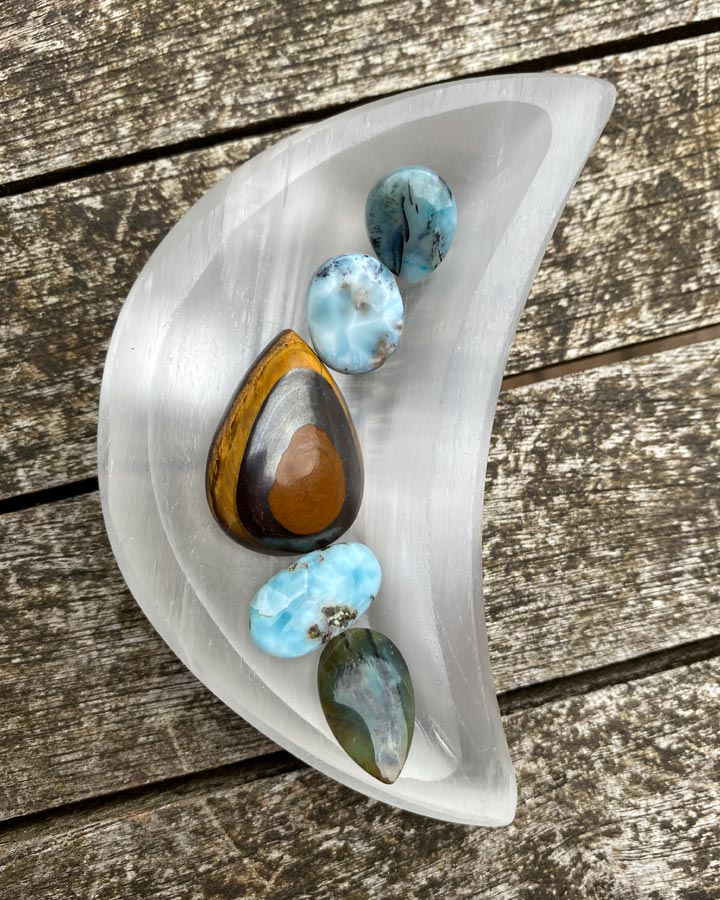 CHAKRA // CROWN
ZODIAC // GEMINI, CANCER
ELEMENT // WIND
PLANET // MOON
SACRED NUMBER // 2, 8, 22
VIBRATION // EXTREMELY HIGH

SERENITY * PURIFICATION * PEACE * MEDITATION * UNIVERSAL CONSCIOUSNESS * CLARITY OF THOUGHT * PURITY OF HEART * UNIVERSAL LOVE * INTEGRITY * SPIRITUALITY * PSYCHIC DEVELOPMENT * FORGIVENESS * POSITIVE THOUGHTS
THE STONE OF DIVINE MOON ENERGY CLEANSING
SELENITE has a translucent white nature, it represents spiritual purity, light and connection to the Angelic realms. It is one of the most sacred crystals throughout history and is also known as Satin Spar. The spiritual meaning of Selenite is rejuvenation and divine female energy. it symbolises the angelic realms and allows us to communicate with Angelic beings.

SELENITE has the Moon Goddess's ethereal energy is embedded in this soft powerful crystal. It is easy to feel the moon energy envelope you as you gaze upon its brilliance and move it around your energetic body and auric field.

SELENITE clears and cleanses energy. Just as dust builds up on a surface, energy builds up when it isn't cleansed. When your energetic body and environment need cleansing reach for selenite, it is the highest vibrational crystal on the planet, selenite works to cleanse the vibration of everything around it too.

SELENITE is a crystal tool like no other, its high vibrations neutralise surrounding negative vibrations effectively cancelling them out. Selenite raises your vibration to that of the frequency of a pure, bright, white light. You can use Selenite to draw an invisible bubble around you to keep your energy clear and cleansed.

SELENITE is an energy soap, ideal to get your energy squeaky clean. It helps remove any energetic grime from your aura. Working with Selenite leaves you rejuvenated and refreshed.

SELENITE can cleanse yourself and your Aura and you can do the same for your surroundings. It is often referred to as liquid light, it lets positive energy flow all over the room.

I particularly like the use of selenite bowls for cleansing and charging your crystals.

SELENITE forms in enormous crystals the size of redwood trees, also known as satin spar gypsum. In mythology Selenite is associated with Selene the Greek Goddess of the Moon.

SELENITE is found in Morocco, Mexico and the USA.