The Finest Quality Crystals and Minerals - Pretty Little Healing Crystals - Over 7000 Exclusive Healing Crystals From Around The World Order Online Global Shipping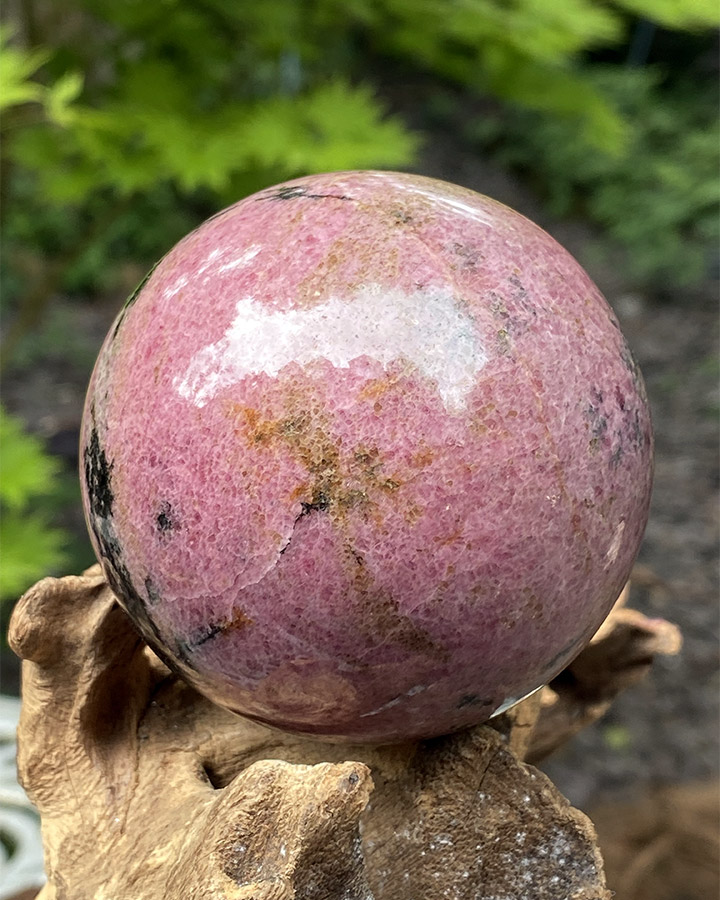 CHAKRA // HEART
ZODIAC // TAURUS
PLANET // VENUS
ELEMENT // EARTH
SACRED NUMBER // 9
VIBRATION // HIGH

CALMNESS * SELF – CONFIDENCE * FORGIVENESS * GRATEFULNESS * GRATITUDE * ELEGANCE * DELICACY * COURTESY * TACT * INNER KNOWING *LOVE * COMFORT * NURTURING * BALANCE
THE STONE OF FORGIVENESS
RHODONITE encourages you to forgive both yourself and others. Rather than harbouring toxic feelings, let go of them and choose forgiveness as the way to heal yourself. Forgiving does not mean condoning or excusing hurtful behaviour, it does mean you're no longer ruled by anger and resentment. It means you have made peace with the situation and are willing to move on. Forgiveness is like medicine for the heart. When you are still holding on to anger, blame and resentment then Rhodonite shifts your perspective.

RHODONITE contains black, the black in Rhodonite reminds us that our heart can harbour dark emotions. These darker energies can hold grudges, resentments and unprocessed blame. The longer these energies remain, the stronger they grow. Rhodonite can be useful to your heart by freeing it of resentment and bitterness. Employ it to help release the heavy energy that you are storing deep inside. Rhodonite will absorb these dense energies, leaving you free of toxins.

RHODONITE will transform negative feelings into positive ones such as acceptance, love and understanding. Its gentle vibrations help you balance your emotions so you can find true forgiveness.

RHODONITE teaches us that forgiving others is great practice for learning to forgive ourselves. Make peace with yourself and give yourself a break from negative emotions.

RHODONITE soothes the nervous system. An excellent remedy for trauma or shock. It calms and supports the mind, body and soul in challenging situations. Another stone that opens the heart to Unconditional Love by building confidence and dissolving bad memories replacing them with love and forgiveness.

RHODONITE gets its name from the Greek word for Rose. The rosy pink stone was first discovered in the Ural Mountains in Russia. A favourite of the Russian Czars it became a traditional wedding present for royals. Its association with love has lent to it being referred to as the rescue stone. Rhodonite is a good stone for carving. The manganese oxide gives the rhodonite its black markings. Rhodonite without the manganese is highly sought after by collectors.

RHODONITE is found in Australia, Brazil, India, Madagascar, Mexico, Russia, Sweden and the USA.