The Finest Quality Crystals and Minerals - Pretty Little Healing Crystals - Over 7000 Exclusive Healing Crystals From Around The World Order Online Global Shipping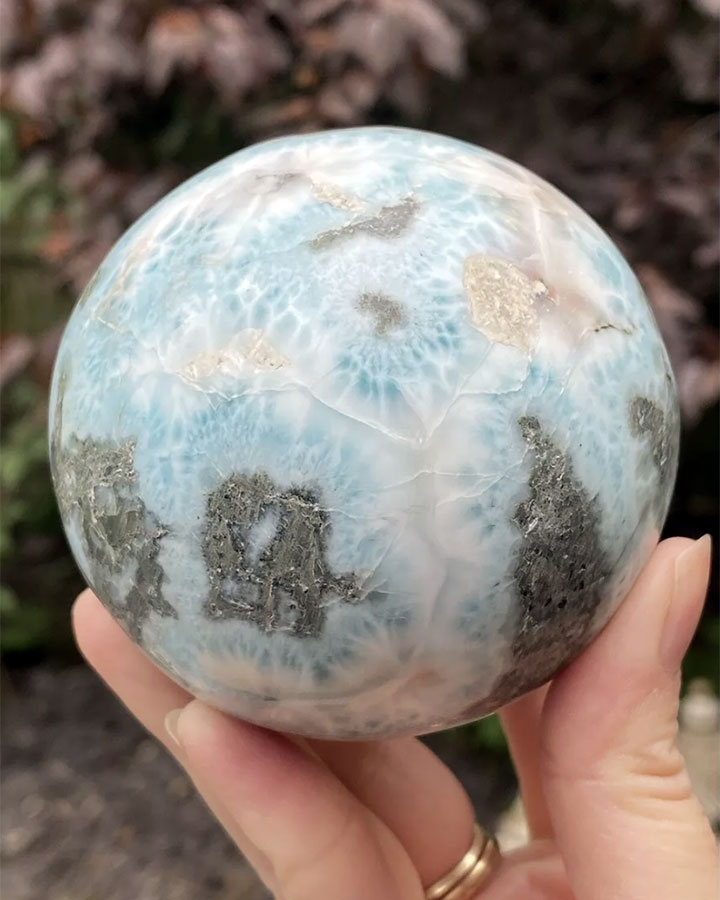 CHAKRA // THROAT
ZODIAC // LEO
PLANET // MERCURY, NEPTUNE
ELEMENT // WATER, FIRE
SACRED NUMBER // 6, 55
VIBRATION // EXTREMELY HIGH

TRANQUILITY * SOOTHING * NURTURING * ANCIENT WISDOM * DOLPHIN STONE * CALMS FEARS * RELIEVES STRESS * POWERFUL MEDITATION AID * HARMONIZING * LOVE * PEACE * SERENITY * COMMUNICATION
THE STONE OF SPIRITUAL EQUANIMITY
LARIMAR is the embodiment of the tranquil Sea and Sky energies. Its soft, soothing blues and calming turquoise is streaked with white patterns that resemble sunlight dancing beneath Caribbean waters. It brings the ancient wisdom of Atlantis and the healing powers of dolphins to harmonize the body and soul.

LARIMAR is a crystal of serenity, promoting relaxation in every aspect. Use as a worry stone, or place in the home or workplace to assure a pleasant atmosphere. It has a cool blue colour calms fears, relieves stress and nurtures the physical and emotional bodies.

LARIMAR is a powerful meditation stone for connecting with the Divine Feminine. It is particularly good at releasing patterns and processes that no longer serve.

LARIMAR is also known as the Dolphin Stone and is a blue variety of Pectolite or Atlantis Stone. Originally it was discovered in 1916 and then rediscovered in 1974, the person who rediscovered it named the stone after his daughter Larissa and the Spanish word for sea, Mar.

LARIMAR dissolves self-sabotaging behaviour and alleviates guilt and removes fear, bringing about emotional balance and taking control of life. During times of stress and change, it enables us to meet challenges with equanimity.

LARIMAR radiates love, peace and tranquility. It heals heart trauma. Holding the stone induces a deep meditative state in which the soul is guided onto its true pathway. Larimar facilitates communication with other realms and attunes to Mother Earth and the oceans. It is said to help us find a soulmate in life.

LARIMAR is found in the Dominican Republic, there are many fakes out there, you know when you hold a genuine piece of Larimar in your hand. For me, it invokes the ocean instantly.