The Finest Quality Crystals and Minerals - Pretty Little Healing Crystals - Over 7000 Exclusive Healing Crystals From Around The World Order Online Global Shipping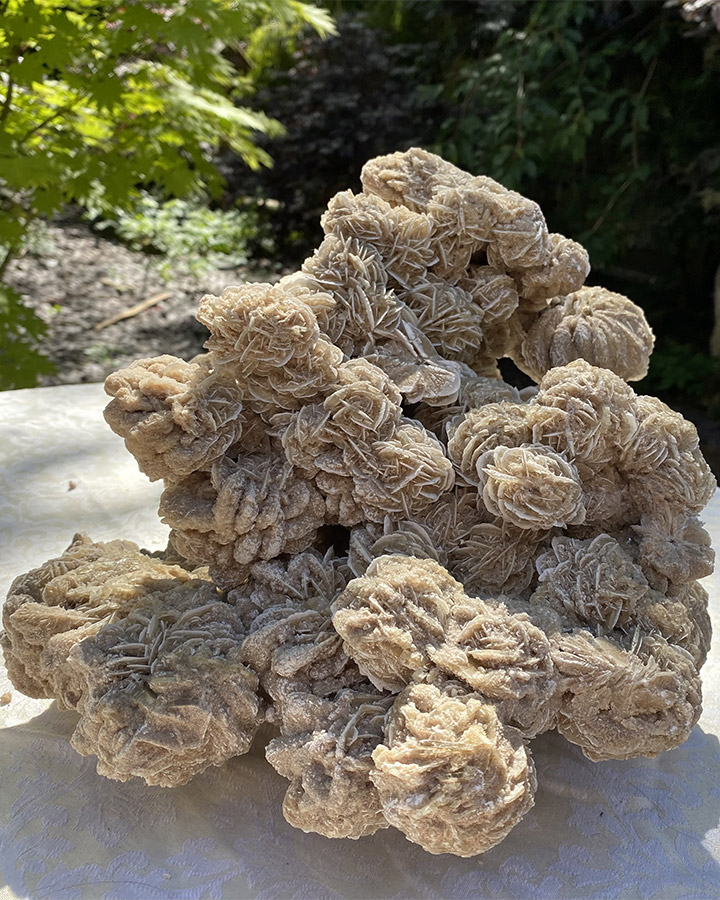 CHAKRA // BASE, THIRD EYE, CROWN
ZODIAC // SCORPIO, CAPRICORN, TAURUS
PLANET // EARTH
ELEMENT // WIND, EARTH, WATER
SACRED NUMBER // 11

DIVINE WILL *GROUNDING * FOCUS * MEDITATION * MENTAL CLARITY * QUIETENS WORRIES * INSPIRING * CALMING * BALANCING * UPLIFTING * OVERCOMES PHOBIAS * SELF CONFIDENCE * SPIRITUAL AWAKENING * SELF DISCOVERY * INTUITION
THE STONE OF DIVINE WILL
DESERT ROSE is the perfect meditation tool that helps one stay grounded and balanced. It assists with mental clarity and focus, manifestation, self-expression and unlocks our Divine will. It's a prefect stone to place at a bedside, workspace or meditation room as it helps to cleanse one's Aura and environment. Due to it being Selenite based it will charge and cleanse other crystals placed around it.

DESERT ROSE is believed to quieten worries and promotes mental clarity. Despite its gentle appearance, this stone embodies strength and is a symbol of standing your ground. This stone inspires one to have heart-centred thoughts and brings clarity to understanding one's own emotional body.

DESERT ROSE can be a great help is you are struggling to get focused. It offers you the gift of balance and focused calm. Desert Rose vibrates to the root and crown chakra energies, creating a grounding/uplifting vibration that anyone nearby can tap into.

DESERT ROSE is a good crystal for help with loss of grief, a crystal that particularly resonates with men. Desert Rose is a good stone for anyone who feels like they need a constant rejuvenation of energy.

DESERT ROSE despite its petal like softness, it is a stone that will help you stand your ground. It's also referred to as Sand Rose, Selenite Rose or Gypsum Rose. Formed in dry desert regions, each one is said to contain its own Spirit Guardian. They have traditionally been used as talismans for protection, overcoming phobias and to help boost your self-confidence. Especially good for timid children.

DESERT ROSE forms as bladed clusters that arrange into the shape of a rosette. Some specimens erode easily, so handle with care.

DESERT ROSE is found in Mexico and Morocco.