The Finest Quality Crystals and Minerals - Pretty Little Healing Crystals - Over 7000 Exclusive Healing Crystals From Around The World Order Online Global Shipping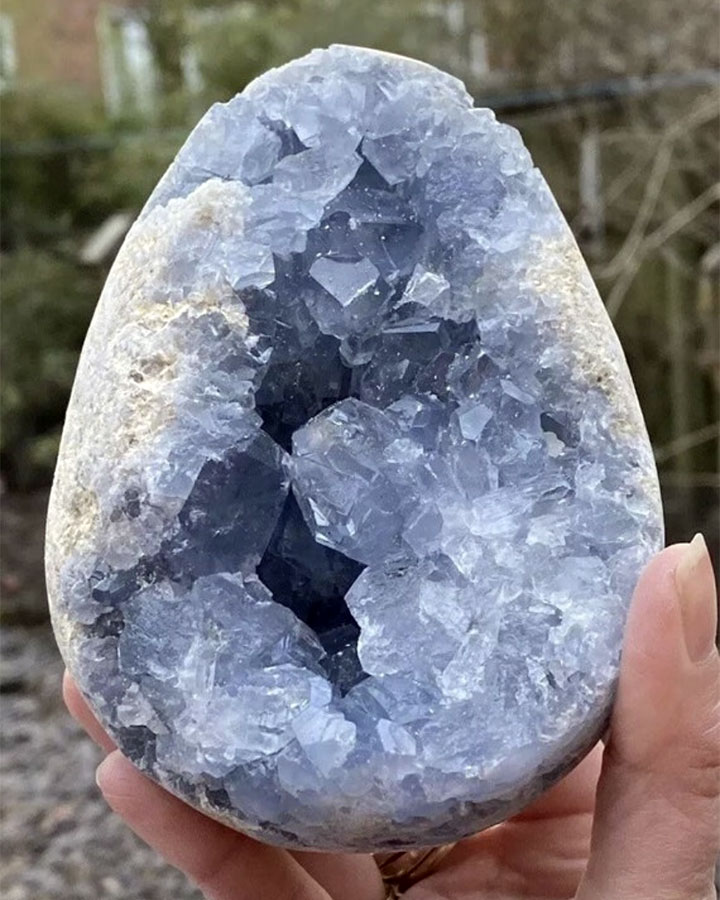 CHAKRA // THROAT, THIRD EYE, CROWN
ZODIAC // GEMINI, CANCER
ELEMENT // AIR
SACRED NUMBER // 2, 8
VIBRATION // HIGH

ANGELIC CONNECTION * SOOTHING * SERENITY * CALMING * GENTLE ENERGY * NURTURING * SLEEP ENHANCING * RENEWING * REASSURING * PSYCHIC CONNECTION * TRANQUILITY * RESTFUL * ENABLING * GUARDIAN ANGEL * SPIRIT GUIDE
THE STONE OF ANGELIC JOY
CELESTITE'S has a very gentle vibration. Its soft blue colour lends itself well to its calming and tranquil nature. It is a stone of great serenity. Its calming energy lends itself to any room and any situation.

CELESTITE is a particularly good stone to have in the bedroom as its energy waves aid sleep and eliminates restlessness. Its particularly good at aiding deep sleep especially when used in combination with amethyst. It is also a powerful tool for combating disturbing dreams. Its calming energy reduces the brain chatter and clears the mind of negative thoughts, enabling more refreshing sleep.

CELESTITE with its sweet and gentle energy has a strong stimulating effect on spiritual and psychic gifts. It aids mental clarity as it clears and sharpens mental faculties. Celestite connects you to your Guardian Angel.

CELESTITE is a very good crystal for piercing through dense, heavy energy. It is my ultimate comfort crystal, a soothing, nurturing, renewing, crystal security blanket. It is the crystal that makes me feel closest to my guardian angels and spirit guides. It emits a reassuring energy that helps you feel safe and secure by cancelling out stress and tension.

CELESTITE in your room infuses it with a calm, soothing frequency that fills the space with tranquility, serenity and peace. Celestite gets its name from the Latin for heavenly. Discovered in 1791, it has been also known as Celestine.

CELESTITE is found in Egypt, Madagascar, Mexico, Poland and the UK.