The Finest Quality Crystals and Minerals - Pretty Little Healing Crystals - Over 7000 Exclusive Healing Crystals From Around The World Order Online Global Shipping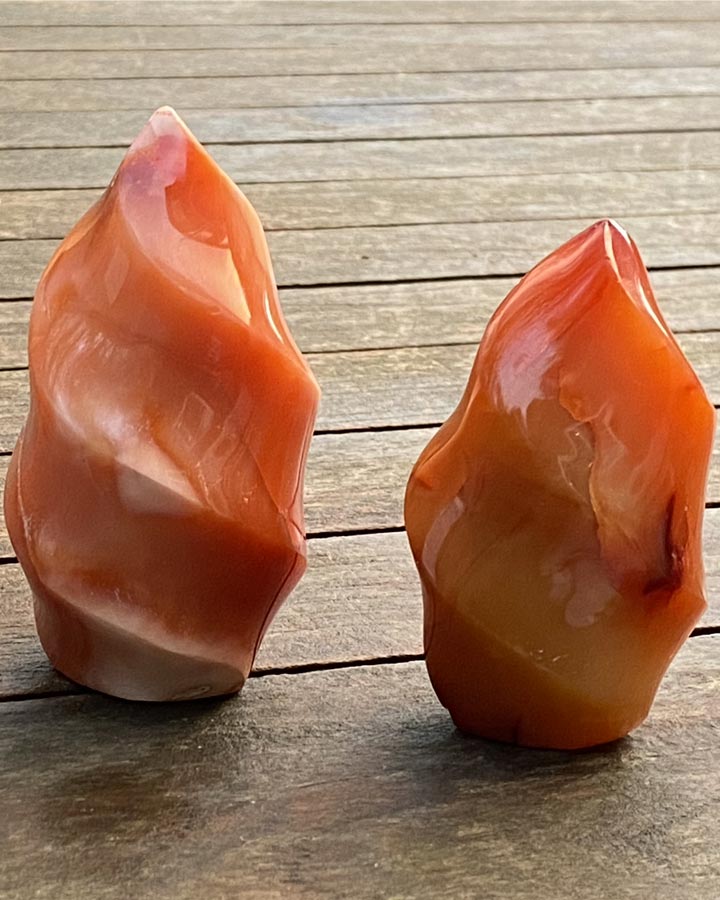 CHAKRA // SACRAL
BIRTHSTONE // JULY
ZODIAC // TAURUS, CANCER, LEO, VIRGO
PLANET // MARS
ELEMENT // FIRE
SACRED NUMBER // 5, 6
VIBRATION // EARTHY

PASSION * CREATIVITY * SELF ESTEEM * IMAGINATION * ADVENTUROUS * BOLD * SELF CONFIDENCE * FIRE * DESIRE * JOY * EXCITEMENT * COURAGE * IDEALISM * PUSH YOUR BOUNDARIES * IMPULSIVENESS
THE STONE OF CREATIVE JOY
CARNELIAN has orangey red colouring that ignites a fire that brings out your passion and imagination. Its associated with bold decisions. It fuels the fire, boosts your self-esteem and self-confidence to go after what you truly desire.

CARNELIAN brings out the bold, adventure seeking, risk taking part of you. Working with Carnelian helps us think outside the box, push our boundaries and tap into our creative potential. Carnelian brings a sense of joy and excitement to any creative endeavour.

CARNELIAN is the stone of creativity. Being creative is more about enjoying the creative process and the journey than the outcome. Feelings that you harness when working with Carnelian can spill over into your professional, personal life and relationships.

CARNELIAN can help you discover what it is that blocking your creativity. Carnelian takes you out of your head and connects with your creative impulses.

CARNELIAN is a stone of joy and passionate energy. Embrace the confidence it gives you and empower your creative journey.

CARNELIAN was used in ancient culture used to foster courage, it was believed to help timid speakers to become valiant and bold. Ancient Egyptians believed it added a sense of vitality to the spirit and body.

CARNELIAN is found in Indonesia, Brazil, India, Siberia and Germany.