The Finest Quality Crystals and Minerals - Pretty Little Healing Crystals - Over 7000 Exclusive Healing Crystals From Around The World Order Online Global Shipping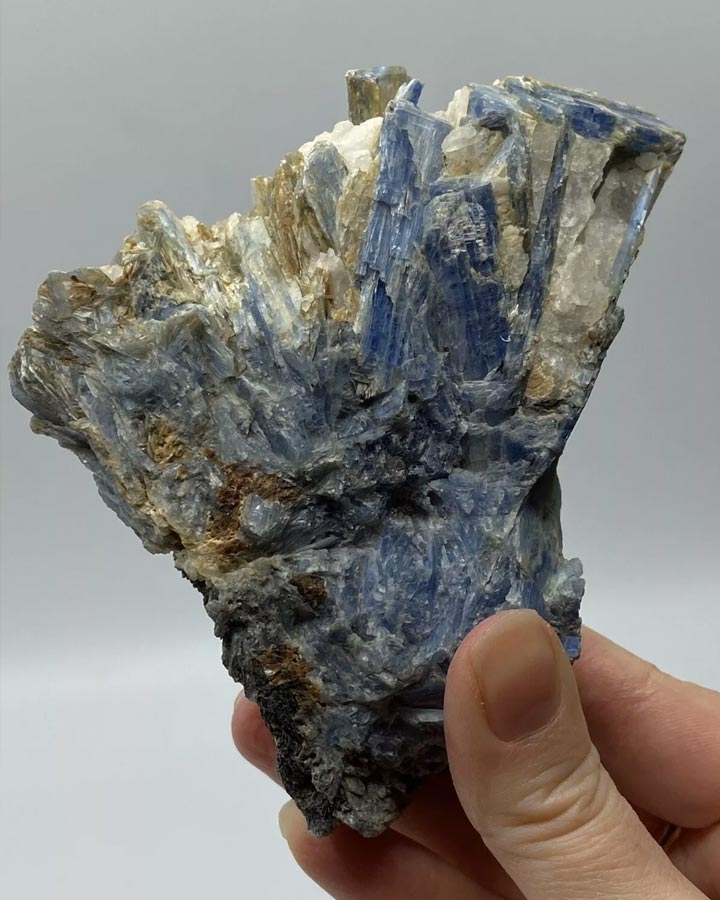 CHAKRA // THROAT, THIRD EYE
ZODIAC // GEMINI, PISCES
PLANET // MERCURY, NEPTUNE
ELEMENT // WATER, WIND
SACRED NUMBER // 4
VIBRATION // EXTREMELY HIGH

TRANQUILITY * ATTUNEMENT * SELF CLEANSING * CALMING * STIMULATING * PERSEVERANCE * CONNECTION WITH SPIRIT GUIDES * REMOVES BLOCKAGES * HONESTY * GROUNDING * MEDITATION AID * COMMUNICATION
THE STONE OF ULTIMATE HEALING
BLUE KYANITE is an excellent stone for meditation and Attunement. It does not retain any negative vibrations or energy, therefore never requiring clearing. Kyanite aligns all chakras and subtle bodies instantly. It provides balance of yin and yang energy and dispels blockages. Moving energy gently through the physical body.

BLUE KYANITE has a calming effect on the whole body, bringing tranquility. It encourages psychic abilities and communication on all levels. It drives away anger, frustration, confusion and stress. Kyanite provides a stimulating energy, encouraging perseverance. It helps connecting with your spirit guides.

BLUE KYANITE cleanses and opens your throat chakra, encourages communication and cuts through communication fears and blockages to help you share your truth from an honest place. Amplifying high frequencies energies, Blue Kyanite aligns chakras and subtle bodies, clearing pathways and meridians. It encourages you to speak your highest truth, cutting through fears, illusions and blockages and increasing capacity for logical thought.

BLUE KYANITE is tranquilizing, good for inducing deep meditative states and yet stimulates psychic abilities. Kyanite reveals measures required to balance out the past. Both grounding and mediating the flow of spiritual energy, Kyanite restores QI to the physical body and is a natural pain reliever.

It forms in unique, striated crystal blades. It is good for placing in a room to clear any heavy vibes.

BLUE KYANITE is found in Brazil.