The Finest Quality Crystals and Minerals - Pretty Little Healing Crystals - Over 7000 Exclusive Healing Crystals From Around The World Order Online Global Shipping
BISMUTH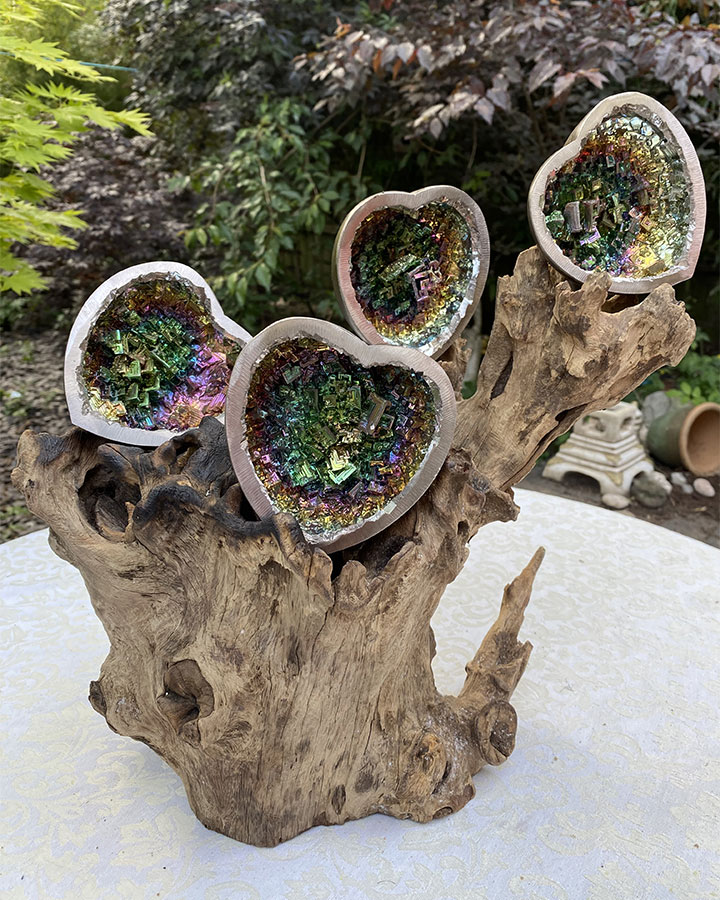 CHAKRA // CROWN, BASE, SOUL STAR, STELLAR GATEWAY, EARTH STAR, GAIA GATEWAY
ZODIAC // AQUARIUS
SACRED NUMBER // 2
ELEMENT // STORM
VIBRATION // EARTHY, HIGH

CALMING * GROUP WORK * NEW VIBRATIONS * DIRECTING CHANGES * ACCEPTANCE * WISDOM * UNIVERSAL ENERGIES * SUPPORTIVE * VITALITY
THE STONE OF BELONGING
BISMUTH relieves symptoms of isolation, both spiritually and emotionally. It calms disorder and helps push changes in the right direction with a physical vitality, connecting 'all that is.' Energy is transformed from the crown chakra to the base chakra, which is something other stones can't do. The power of Wisdom is contained within Bismuth.

BISMUTH settles in new vibrations and helps the body adjust to higher frequencies, assisting in moving easily between the physical plane and the spiritual realms. Calming disorder and directing change in the right direction. Bismuth strengthens the connection to universal energies. This stone changes complex thought patterns that have become obsolete so that a more constructive pattern is imprinted.

BISMUTH can occur naturally but often is laboratory grown. Laboratory grown Bismuth ensures group cohesiveness. It assists people who are isolated or have become institutionalised to find a caring, accepting community.

BISMUTH is found in Russia, Germany or can be laboratory grown.