The Finest Quality Crystals and Minerals - Pretty Little Healing Crystals - Over 7000 Exclusive Healing Crystals From Around The World Order Online Global Shipping
APOPHYLLITE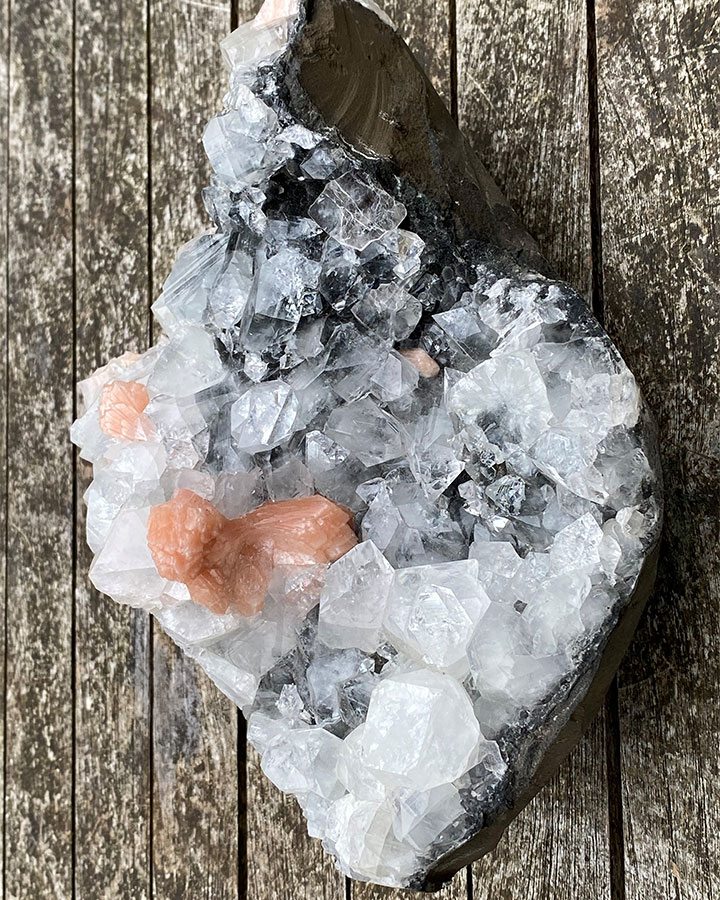 CHAKRA // THIRD EYE, CROWN, HIGHER CROWN, SOMA
ZODIAC // GEMINI, LIBRA
PLANET // EARTH
ELEMENT // EARTH, WIND
VIBRATION // HIGH
SACRED NUMBER // 4

ANGELIC COMMUNICATION * PURIFIER * HIGH VIBRATION ENERGY * SPIRITUALLY UPLIFTING * VIBRANCY * SPIRITUAL ADVISOR * STRESS RELIEVER * HIGHER GUIDANCE * POSITIVITY * THIRD EYE OPENER * SPIRITUALLY AWAKENING
THE STONE OF SPIRITUAL AWAKENING
APOPHYLLITE can be pure white or sometimes it can have a green colour. As a crystal it is our spiritual advisor, to benefit from its healing properties, meditate with your crystal for twenty minutes. Ask Apophyllite to talk to your worries, help you understand them and remove them.

APOPHYLLITE encourages us to stay more positive, both in attitude and thought, it reminds us to focus on the things you do have in life rather than that what you don't have. Apophyllite's high vibrational angelic energy purifies your mind and lifts your spirits. Breathe deeper and feel its vibrant positivity.

APOPHYLLITE positivity trains you to deal with life's most difficult situations, enabling you to come through them with your head held high. It turns our failures from failures and into lessons from which we can build on. By concentrating on the lesson and not the failure we can find an opportunity in every setback.

APOPHYLLITE is the air purifier of the crystal kingdom, continuously filtering large amounts of energy to keep vibrations fresh, sparkling clear and high vibration. Great to place in high traffic areas of your home.

APOPHYLLITE crystal tips are a popular option for expanding third eye awareness and focus. If you meditate with one of these pyramids between your eyebrows and it will enhance your ability to be spiritually awake in all your interactions.

APOPHYLLITE legend suggests that it used to be used for those who participated in fire walking. Participants would hold apophyllite in their hands to reach a highly meditative state and then use the stone to help cool their feet.

APOPHYLLITE'S cool, purifying energy has always made it a crystal to which I'm incredibly drawn. The white crystals have a strong angelic connection and the greener crystals speak directly to my heart chakra. I find it especially beneficial to meditate with an apophyllite triangle on my third eye. I feel calm and aware afterwards.

APOPHYLLITE is found in many countries including Australia, Brazil, India, Mexico, the USA. Often found in combination with the mineral Stillbite.