The Finest Quality Crystals and Minerals - Pretty Little Healing Crystals - Over 7000 Exclusive Healing Crystals From Around The World Order Online Global Shipping
ANGEL/OPAL AURA QUARTZ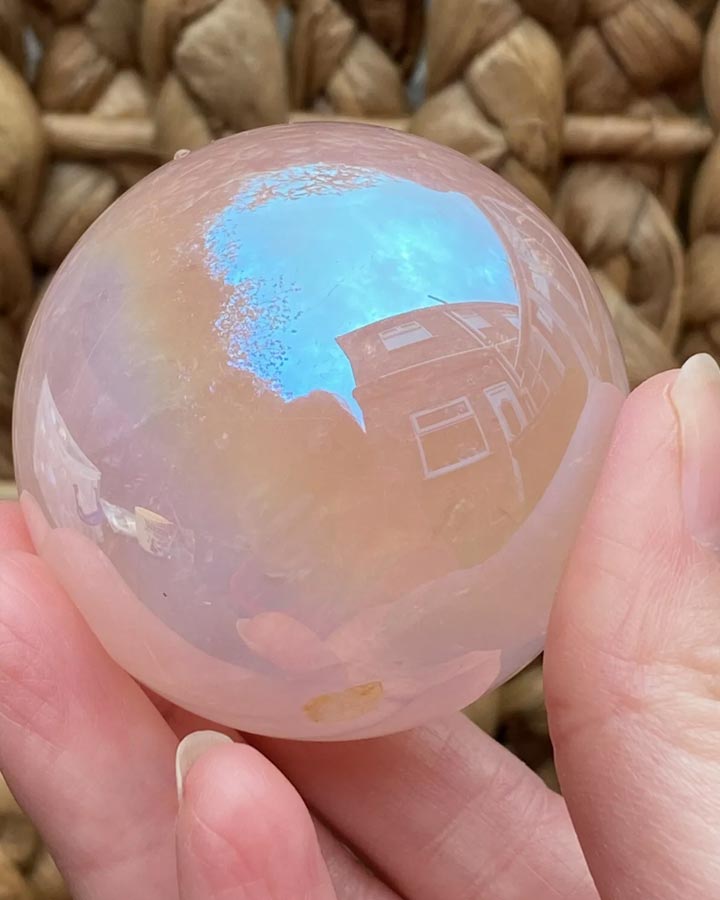 CHAKRA // ALL

SERENITY * SPIRITUAL ENERGY * IRIDESCENCE * ANGELIC GUIDANCE *LOVING COMMUNICATION * EQUISITE PURITY * HARMONISING * SOOTHES ANXIETY * INNER CHILD
THE STONE OF ANGELIC GUIDANCE
ANGEL AURA QUARTZ / OPAL AURA QUARTZ is a serene stone which is created by fusing platinum, silver or gold onto Quartz to create a highly supportive spiritual energy of exquisite purity. The iridescence shines like the wings of angels and contacts guardian angels and angelic guidance.

ANGEL AURA QUARTZ / OPAL AURA QUARTZ as a crystal facilitates remembering soul lessons from past incarnations and attuning to our present life's Soul purpose. It encourages loving communication by opening the throat chakra. Angel Aura quartz aligns all the chakras and harmonises and subtle bodies with the physical. It can soothe anxiety, panic attacks and phobias.

ANGEL AURA QUARTZ / OPAL AURA QUARTZ are lovely crystals are real quartz with a coating fused onto it in a laboratory. Some collectors don't collect them because they have got a man-made coating on them but my experience in working with crystals is that they are very effective. They tap into the child like spirit within all of us, children especially are drawn to their sparkly, beautiful energies.