The Finest Quality Crystals and Minerals - Pretty Little Healing Crystals - Over 7000 Exclusive Healing Crystals From Around The World Order Online Global Shipping
AMETHYST
BRANDBERG AMETHYST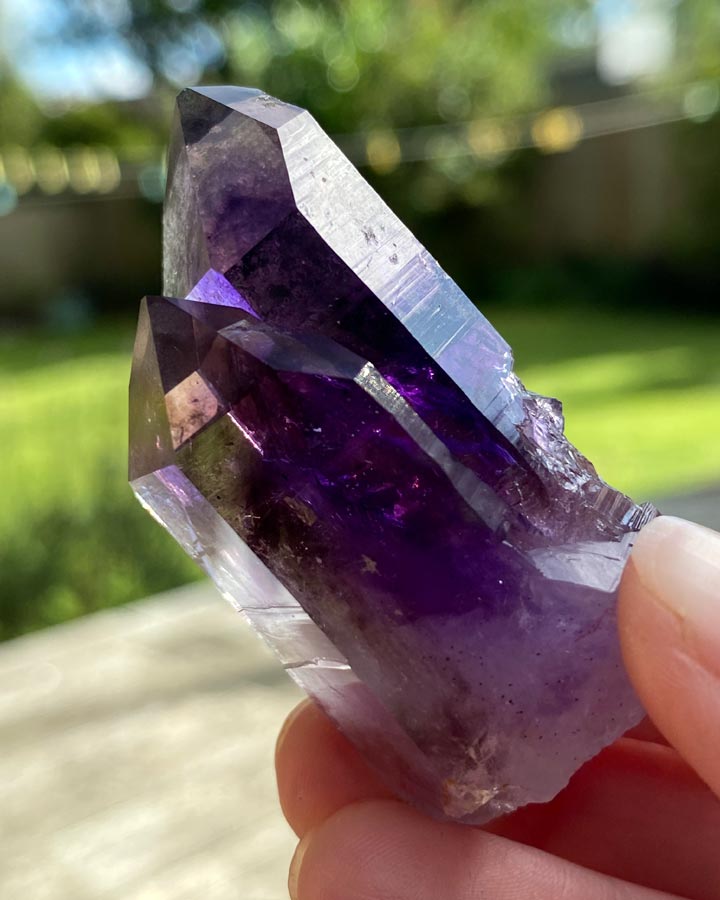 CHAKRA // THIRD EYE, CROWN
BIRTHSTONE // FEBRUARY
ZODIAC // VIRGO, SAGITTARIUS, CAPRICORN, AQUARIUS, PISCES
PLANET // JUPITER
ELEMENT // AIR, WATER
SACRED NUMBER // 3
VIBRATION // EXTREMELY HIGH

HIGH VIBRATION * UNITY OF CONSCIOUSNESS * COMPASSIONATE * UNITY * SPIRITUAL AWARENESS * PSYCHIC ABILITIES * HEALING MIND, BODY AND SOUL * MEDITATION * BALANCE * POSITIVE TRANSFORMATION * RELIEVES STRESS
THE GATEWAY STONE
BRANDBERG AMETHYST is only found on an ancient sacred massif in Namibia, Brandberg Amethyst is a truly magical tool for healing and enlightenment, containing the perfect blueprint for all that has and all that ever shall be. The crystal does everything required of it, although known under the label Amethyst, it can be Smoky, Clear or Citrine, sometimes even Hematite spotted. Many Brandbergs contain phantoms, some have windows, some are Elestial, some encompass Enhydros, bubbles of water millions of years old. Life affirming Enhydros symbolise the soul incarnate within the body. No matter what form the Brandberg Amethyst takes, all of them carry the entire spectrum and the perfection as a whole.

BRANDBERG AMETHYST tend to be person centred, it will identify to you what suits your inner resonance and vibration. Brandberg Amethysts rarely leave you once you've invited one into your life. This stone is a compassionate crystal oversoul uniting its scattered parts, bringing unity of consciousness.

BRANDBERG AMETHYST More than any other crystal, it demonstrates that you are a separate being and part of the whole at the same time. Brandberg Amethyst removes thoughts or implants, attachments or inappropriate mental influences from current or previous lives, releasing their effect.

It creates emotional clarity and teaches you how to stand in place, viewing the external world but not overcome by it.

BRANDBERG AMETHYST inspires serious collectors, the most purple or perfect specimens can go for hundreds if not thousands of pounds. The most humble little piece of Brandberg Amethyst contains the whole entire spectrum of teaching and healing. As a collector, I've been offered the more perfect specimens for my collection but I'm drawn to other ones, the not so perfect or valuable in terms of money or aesthetics but priceless in terms of vibration and soul lessons. Like any crystals, they tell you, they speak to your intuition.

BRANDBERG AMETHYST is found only on the ancient sacred massif the Brandberg Mountains in Namibia.
AMETHYST
CHEVRON AMETHYST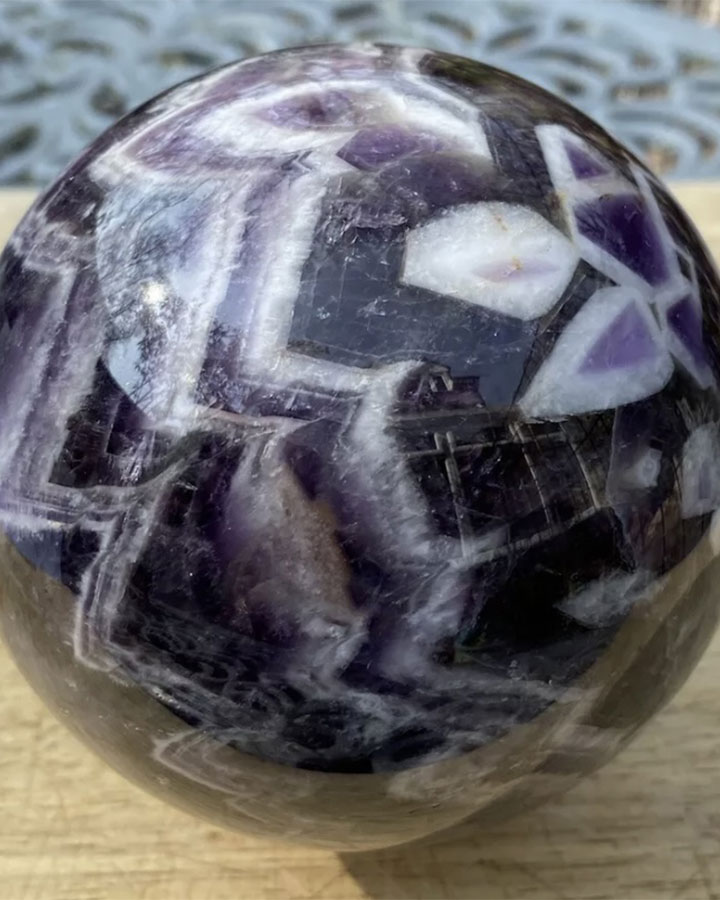 CHAKRA // THIRD EYE, CROWN
ZODIAC // ALL
PLANET // JUPITER, NEPTUNE
ELEMENT // WIND
SACRED NUMBER // 7
VIBRATION // HIGH

TRANQUILITY * INNER WISDOM * SELF DISCOVERY * PEACE OF MIND * RELAXATION * INNER STRENGTH * COURAGE * PEACE * HIGHER SELF * EASES RESISTANCE * INCREDIBLE HEALER * SPIRITUAL AWAKENING * DREAMS * ATTUNEMENT * BREAKING ADDICTIONS
THE STONE OF HIGHER CONSCIOUSNESS
CHEVRON AMETHYST can also be known as Banded Amethyst or Dog Tooth Amethyst. it is a magical combination of Clear Quartz and Amethyst that creates a V shaped or banded pattern. As well as sharing the same energies of normal Amethyst, Chevron Amethyst is far stronger and more powerful when working with our higher chakras.

CHEVRON AMETHYST is known to improve self-discovery, peace of mind and relaxation. It also carries an inner strength as well as courage. When surrounded by chaos it is a great bringer of peace. It promotes self-discovery and relaxation.

CHEVRON AMETHYST helps you connect to your 'Higher Self' the part that is the truest and most pure form of who we are. It assists you to look deep inside yourself. It gently releases resistance to opening-up.

CHEVRON AMETHYST is excellent for work with the Third Eye, it enhances physical and intuitive vision and access multidimensions of consciousness. Gazing into the bands facilitates journeying out of the body. The bands create a powerful healing field around the user. It cleanses and repairs the auric bodies.

CHEVRON AMETHYST is found in India, Russia, Brazil, Canada, Madagascar, Mexico, Namibia, Nigeria and the USA.
AMETHYST
VERA CRUZ AMETHYST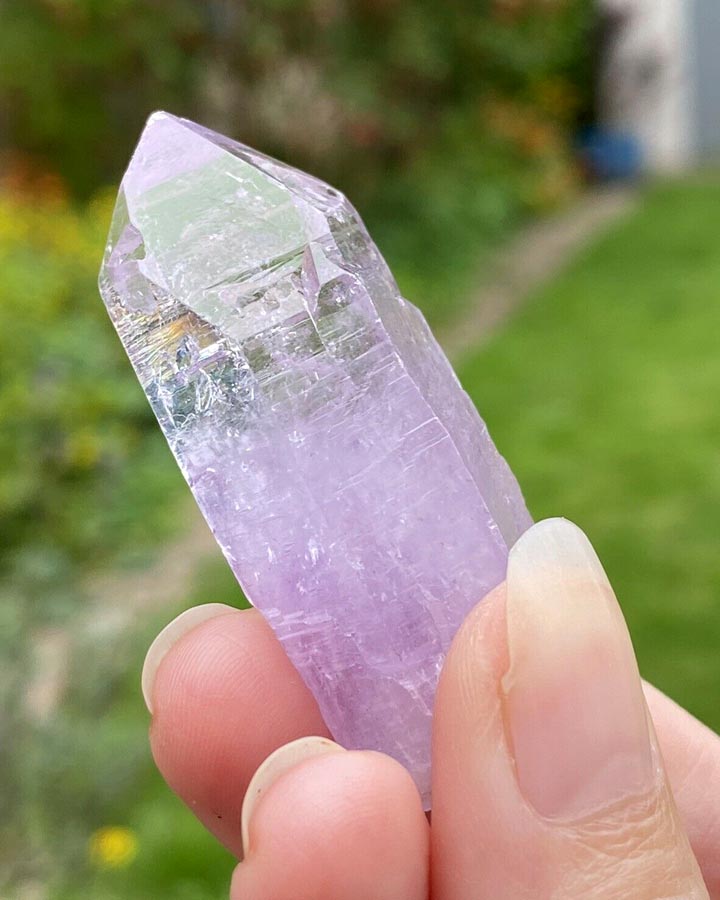 CHAKRA // THIRD EYE, CROWN
BIRTHSTONE // FEBRUARY
ZODIAC // VIRGO, SAGITTARIUS, CAPRICORN, AQUARIUS, PISCES
PLANET // JUPITER
ELEMENT // AIR, WATER
SACRED NUMBER // 3
VIBRATION // HIGH

ACCESSES HIGHER DIMENSIONS * SPIRITUAL AWARENESS * INNER PEACE AND HEALING * PSYCHIC ABILITIES * HEALING BODY, MIND AND SOUL * POSITIVE TRANSFORMATION * MEDITATION * BALANCE * RELIEVES STRESS * COMMUNICATION * SHAMANIC JOURNEYING
THE STONE OF HIGHER DIMENSION
VERA CRUZ AMETHYST is a form of Amethyst that is only found in the Vera Cruz mine in Mexico. It forms as small, often double terminated points and the colour range is from very pale mauve, pale lavender, pale purple to pale violet. The colour is often at the tip.

VERA CRUZ AMETHYST is a crystal with extremely high vibrations but a lighter feel to it that its deeper purple coloured cousins. Delicate Vera Cruz amethyst instantly takes you into a beta brainwave state, facilitating meditation and shamanic journeying.

VERA CRUZ AMETHYST imparts a gentle sense of calm and serenity. This beautiful Amethyst awakens spirituality and transformation. Activating the positive potential junk DNA and epigenetics, it facilitates deep soul memories rising into conscious awareness for release.

VERA CRUZ AMETHYST is another of my 'helpers' I use it when I need a gentler Amethyst intervention. I keep these in my personal space and like to connect with them, holding them gently in my hands during meditation. I feel they open and connect with the very feminine, moon energy of spirituality.

VERA CRUZ AMETHYST is found only in the Vera Cruz mine in Mexico.
AMETHYST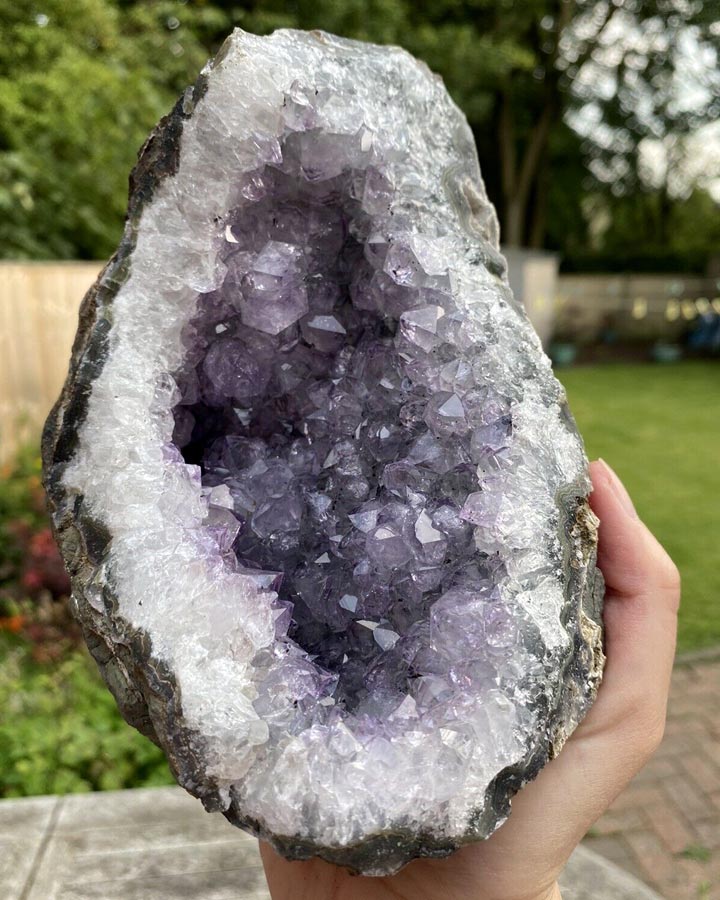 CHAKRA // THIRD EYE, CROWN
BIRTHSTONE // FEBRUARY
ZODIAC // VIRGO, SAGITTARIUS, CAPRICORN, AQUARIUS, PISCES
PLANET // JUPITER
ELEMENT // AIR, WATER
SACRED NUMBER // 3
VIBRATION // HIGH

TRANQUILITY * SERENITY * PEACE * SPIRITUAL AWARENESS * NOBILITY * PSYCHIC ABILITIES * INNER PEACE AND HEALING * HEALING OF BODY, MIND & SOUL * POSITIVE TRANSFORMATION * MEDITATION * BALANCE * LOVE * STRESS RELIEVER * COMMUNICATION
THE STONE OF TRANQUIL SERENITY
AMETHYST is a stone of calm and deep tranquility, it can instil a feeling of inner peace despite any madness that might be happening around you. Meditate with Amethyst to remind you that peace exists within yourself. Its high vibrational purple colour guides us to turn inward to reach the state of inner calm.

AMETHYST'S relaxing calming energies help us ease away daily disturbances, distractions and anything else that takes up room in your mind. Working with Amethyst enables you to find more peace and space within your thoughts. As a natural stress reliever it purifies your mind, removing worry, stress and anxiety replacing it with serenity and inner calm.

AMETHYST is a powerful and protective stone, it guards against psychic attack, transmuting its dark energies into love and protecting the bearer from all types of harm.

AMETHYST is a natural tranquiliser, it relives the stresses and strains of life, it soothes irritability, balances mood swings, dispels anger, rage, fear and anxiety. It helps alleviate sadness and grief and dissolves negativity.

AMETHYST activates spiritual awareness, opens intuition and enhances psychic abilities. It has strong healing and cleansing powers. Amethyst encourages sobriety and has been used as a stone of sobriety since ancient times. Amethyst assists in dream recall, it relieves insomnia, it encourages selflessness and spiritual wisdom.

AMETHYST is a type of Quartz, its colour comes from traces of iron that are irradiated. Available in shades from bright purple to the faintest lilac hues. It has been worn and carried since ancient times, its deep purple colour gave it an association with Bacchus the Greek God of wine.

AMETHYST although fairly common in all its shape and sizes, is a stone that continues to draw me in, many years after becoming a stone person. I remember yearning after my first Amethyst cave. I'm still obsessed with amethyst in all its forms. Amethyst helps me switch off, it helps with my head chatter, it soothes my insomnia and brings restful sleep and tranquil dreams. It is one of my favourite meditation stones.

AMETHYST is found all over the world, Uruguay and Brazil being very sought after, particularly the Minas Gerais mine. Amethyst from certain mines like the Brandberg mine in Namibia and the Vera Cruz mine in Mexico are rare, carry very high vibrations and spiritual connections and are very highly sought after and command high prices.