The Finest Quality Crystals and Minerals - Pretty Little Healing Crystals - Over 7000 Exclusive Healing Crystals From Around The World Order Online Global Shipping
AGATE
BLUE LACE AGATE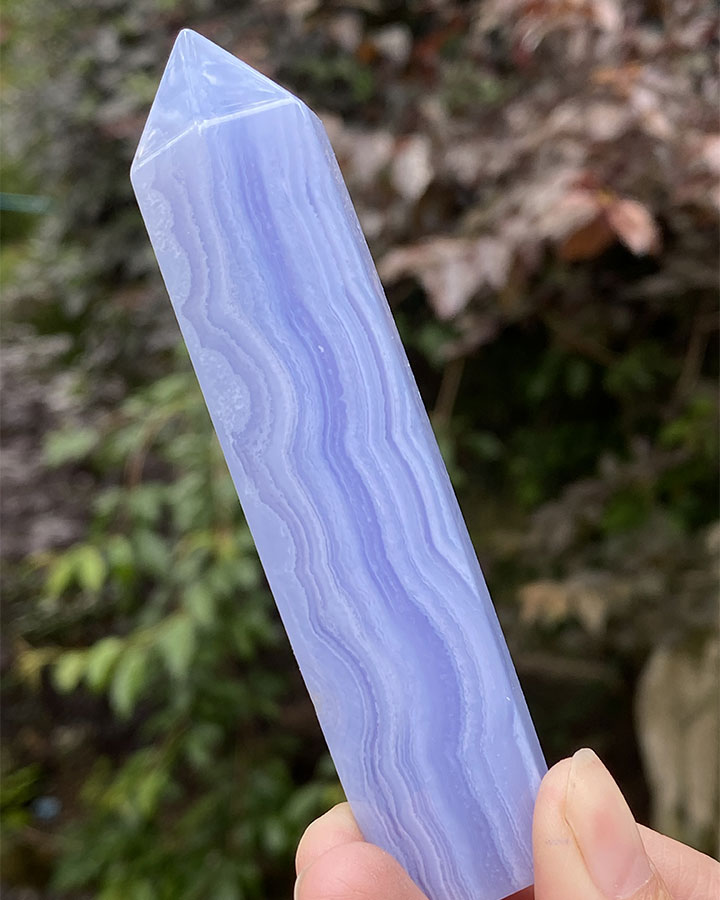 CHAKRA // THROAT
ZODIAC // PISCES
PLANET // NEPTUNE
ELEMENT // WATER, AIR
SACRED NUMBER // 5
VIBRATION // MEDIUM

CALMING * HOPE * OPTIMISM * POSITIVE THINKING * JOY * TRUTH * PURIFICATION * PROMPTNESS * CLEANSING * HARMONY * SMOOTH ENERGY FLOW * PURITY * COMMUNICATION AID * DELICATE
THE STONE OF BEAUTIFUL COMMUNICATION
BLUE LACE AGATE with its cooling, calming blue hues and delicate lace patterns make it the perfect communication stone. If you feel a blockage in your throat chakra, let its comforting energy help you speak your truth. It frees the throat chakra, allowing free flowing expression of thoughts, feelings and emotions. It helps those of us with speech impediments overcome the feelings of nervousness when using our voice and counteracts the feeling that we are being judged.

BLUE LACE AGATE allows feelings that have until now have been supressed to be calmly given a voice. This stone can also help men access their more sensitive side.

BLUE LACE AGATE helps with the expression of our truth both emotionally and spiritually. An excellent stone for healing the emotions, it calms stress, neutralises anger, calms nerves and soothes the spirit. It can enhance the benefit of sound healing.

BLUE LACE AGATE like all agate is a soothing and nurturing stone, bringing calmness and peace of mind. It gives the owner/wearer an inner peace of mind along with the enhanced ability to communicate their truth.

BLUE LACE AGATE is a delicate and beautiful but determined stone in the world of crystal healing.

Found in Namibia and South Africa.
AGATE
CRAZY LACE AGATE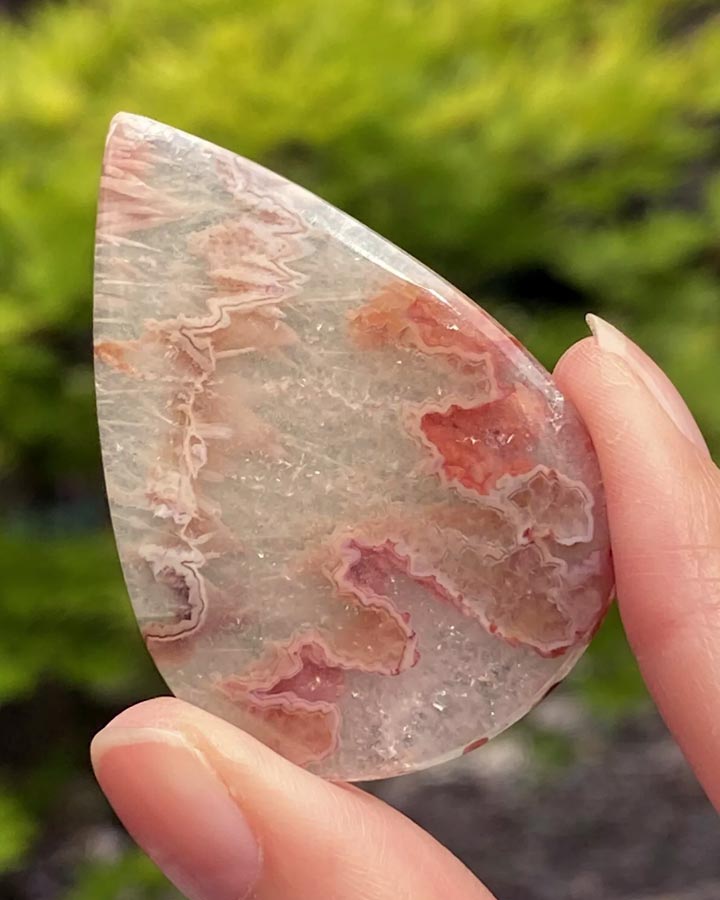 ZODIAC // GEMINI, VIRGO
PLANET // MOON
ELEMENT // EARTH
SACRED NUMBER // 7
VIBRATION // MEDIUM

LAUGHTER * JOY * BALANCE * BEAUTY * LOVE * ABUNDANCE * WEALTH * COURAGE * STRENGTH * RADIANCE * STABILITY * GENEROSITY
THE STONE OF LAUGHTER
CRAZY LACE AGATE is a laughter stone, is a crazy colourful stone with complex patterns that give it a sense of fun, it got its name from its resemblance to woven lace. A very joyful stone it promotes inner stability, outward composure and maturity. A stone much associated with happiness and radiance. Its subtle, positive energies can be harnessed by everyone.

CRAZY LACE AGATE is a stone of focus, this very distinct stone demands we give it attention. Great for building stamina. One of its added benefits is that it is said to help you overcome the fear of spiders and insects.

CRAZY LACE AGATE is usually coloured in browns, blacks, greys, browns, pinks and red. A fascinating example of how complex the formation of agate can be and how varied its patterns and colouring can be.

CRAZY LACE AGATE is found in Mexico.
AGATE
DENDRITIC OPAL/MERLINITE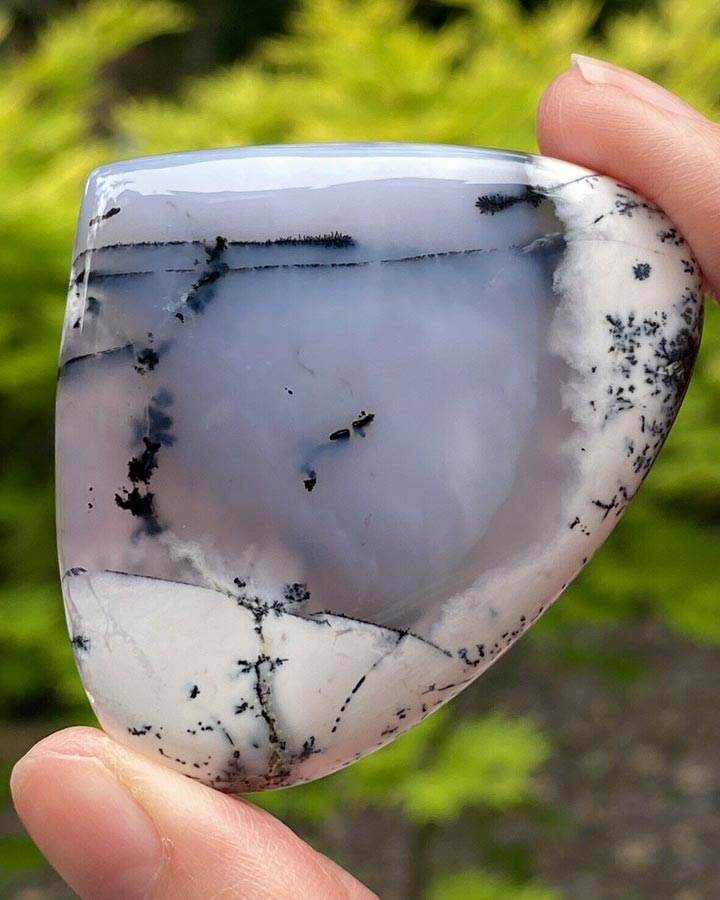 ZODIAC // GEMINI
SACRED NUMBER // 3
VIBRATION // EXTREMELY HIGH

PATIENCE * ACCEPTANCE * PROTECTION * LOYALTY * TRANQUILITY * MAGIC MAKER * CALMING * INNER GLOW * HOPE * BALANCE * EMOTIONAL BALANCE * INTUITION
THE STONE OF MAGIC
DENDRITIC AGATE/OPAL/MERLINITE is a form of common opal and the white has a hint of opalescence about it. It has an inner glow. It is black and white, opposites attracting. Masculine and Feminine power, a stunning stone. This crystal is perfect for long term relationships. It has staying power. It teaches patience and acceptance. When wearing or meditating with it one feels calm and at one with the universe. It brings hope and balance to one's life.

DENDRITIC AGATE/OPAL/MERLINITE is an amazing crystal for maintaining strong bonds in relationships of all kinds, so is a very useful one to have around. It also helps one to realise that their chosen partner in some very powerful ways makes them 'more' and if it doesn't then one must ask oneself, if they are indeed in the right relationship. Dendritic Opal brings emotions in alignment with the analytical mind

DENDRITIC AGATE/OPAL/MERLINITE is also known as the magic bearer, Merlinite takes it's name from the wizard of Arthurian folklore. It is a stone that attracts powerful magic and good luck, combining the knowledge of shamans, alchemists and magicians and workers of magic to support spiritual evolution.

DENDRITIC AGATE/OPAL/MERLINITE blends spiritual and earthy vibrations. It reads the Akashic record, inducing journeys to heal previous life trauma. It stimulates deep intuition, mediumship and psychic knowing.

DENDRITIF AGATE/OPAL/MERLINITE is found in New Mexico USA
AGATE
GRAPE AGATE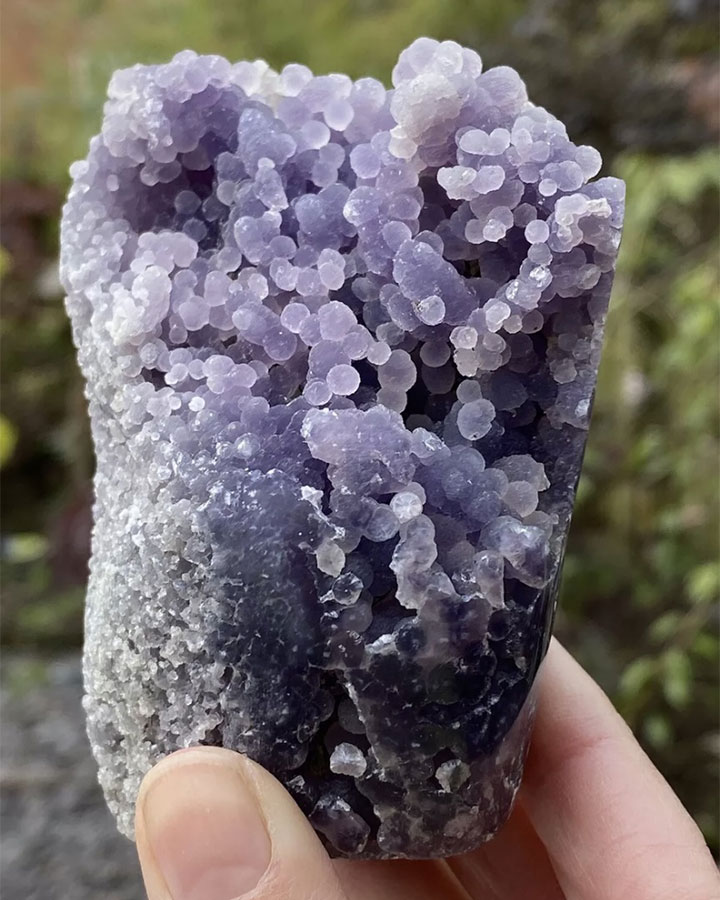 CHAKRA // ALL
ZODIAC // CANCER, SAGITTARIUS
PLANET // JUPITER
ELEMENT // STORM
SACRED NUMBER // 9
VIBRATION // HIGH

CALMING * CLEANSING * GRACE * SOOTHING * INSPIRATION * SELF CONFIDENCE * MATURITY * RELAXING * DREAM RECALL * TRANQUILITY * GENTLENESS * TRUST * OPENS THIRD EYE * ENHANCES PSYCHIC ABILITIES
THE STONE OF GRACE
GRAPE AGATE has a sedative and calming energy, it cleanses perception and helps us identify what is important, helping you sit in stillness and simply be. Activating the karma of Grace that says you only have to do enough, its it helps those of us who chide ourselves with never doing enough even when we haven't had a quiet moment all day. Its tranquil gentleness opens your heart and dismantles defences. It is a wonderful stone of emotional support, it soothes fears and soothes the inner terrorist that sneakily whispers its chattering voices into our head.

GRAPE AGATE is a stone of inspiration that encourages trust. It imparts an inner stability that gives composure and maturity. It has a warm and protective aura and a sense of security and self-confidence.

GRAPE AGATE is excellent as a meditation aid, it allows for deep and intense levels of meditation over a short period of time. An ability to link the third eye and crown chakra enhancing dreams and activated psychic abilities.

GRAPE AGATE is a recently new addition to the Crystal world, no one is sure how long it will be until its mined out.

GRAPE AGATE is found in Indonesia.
AGATE
IRIS AGATE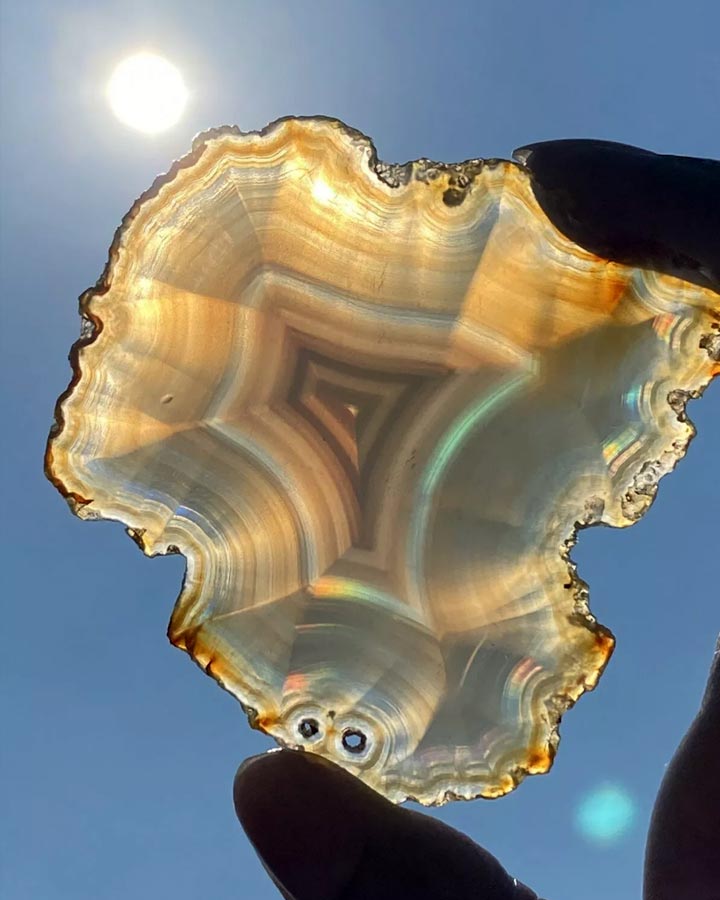 CHAKRA // ALL
VIBRATION // EXTREMELY HIGH

A STONE OF COURAGE AND CONFIDENCE
IRIS AGATE is such a rare and shining beauty containing iridescent rainbows within. A recent addition to the crystal market, it is found in very small pockets.

IRIS AGATE is a powerful stone that gives courage and confidence, a great stone to employ when needing to make something happen. It repels laziness, shirking and compromise. It is a go getting with confidence stone.

IRIS AGATE has fine banding and needs to be cut very thinly to display its rainbow bands within its transparency. To achieve the iris affect it needs to be positioned with a light source behind it.

IRIS AGATE is found in Indonesia.
AGATE
MEXICAN DRUZY AGATE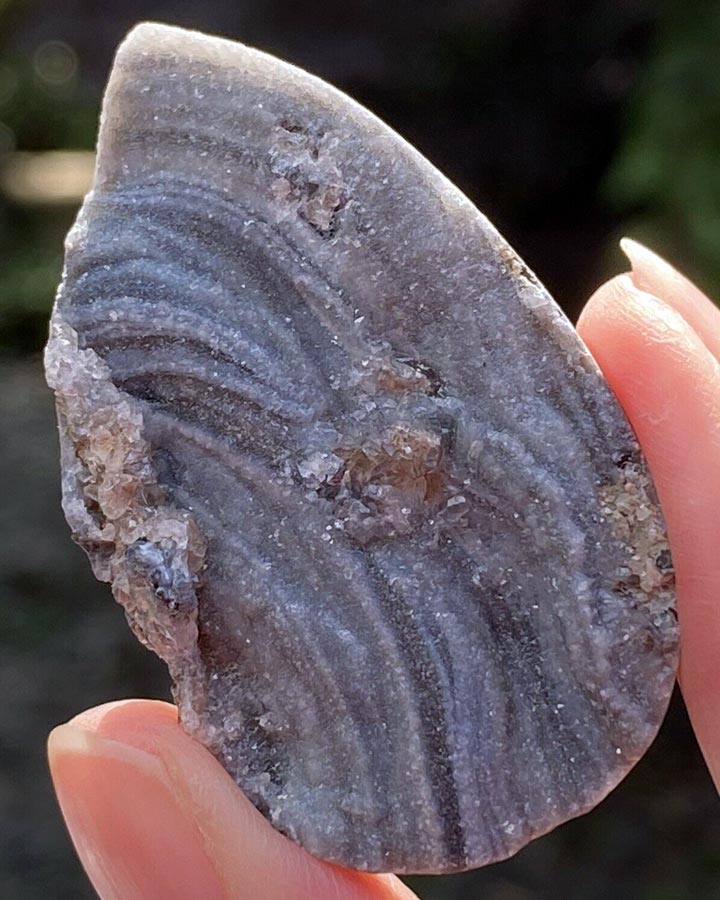 CHAKRA // BASE
VIBRATION // EARTHY

BALANCING * HARMONISING * GROUNDING * PROTECTIVE * TALISMAN * EARTHING * SOOTHING
THE STONE OF THE SHAMAN
MEXICAN DRUZY AGATE contains a druzy layer of tiny sparkling crystals covering the main crystal that gives it a sparkle. Mexican Druzy Agate is named after where its mined, especially attractive as jewellery and talismans. Hold a piece and one can feel a direct connection to Earth energy. it reminds me of the clearing effect of a thunderstorm. A powerful and shamanic form of agate.

MEXICAN DRUZY AGATE is found only in Mexico.
AGATE
MONTANA AGATE
CHAKRA // EARTH, BASE, SOLAR PLEXUS
PLANET // MOON
ZODIAC // LEO
VIBRATION // EARTHY

GROUNDING * GROWTH * HEALING * NATURE LOVING * PROTECTIVE * CLEANSING * BALANCING * STABILISING * HARMONY * GRACE * EMOTIONAL BALANCE
THE STONE OF THE ANCESTRAL SOUL
MONTANA AGATE is the name given to the stunning chalcedony that was found in the alluvial gavels of the Yellowstone river. It should be perhaps known as Yellowstone Agate, it was created by volcanic activity in the Yellowstone Park.

MONTANA AGATE is extremely grounding but energizes you to seek growth both spiritually and physically. It is said to contain what is left of our ancestral tree. It has an intimate relationship with Mother Earth, it is perfect for ancestral and earth-healing. The stone discerns the truth about the ancestral past, accepting past circumstances with grace and healing toxic emotional residue. This grounding stone cleanses the earth star and works up the chakric line. It balances yin and yang and controls the kundalini flow. It brings about emotional balance, it integrates the subtle bodies with the physical body so the soul accepts the reality of physicality.

MONTANA AGATE is highly mystical and protective. It is often used in jewellery or for decorative purposes.

MONTANA AGATE is found in the USA.
AGATE
MOSS AGATE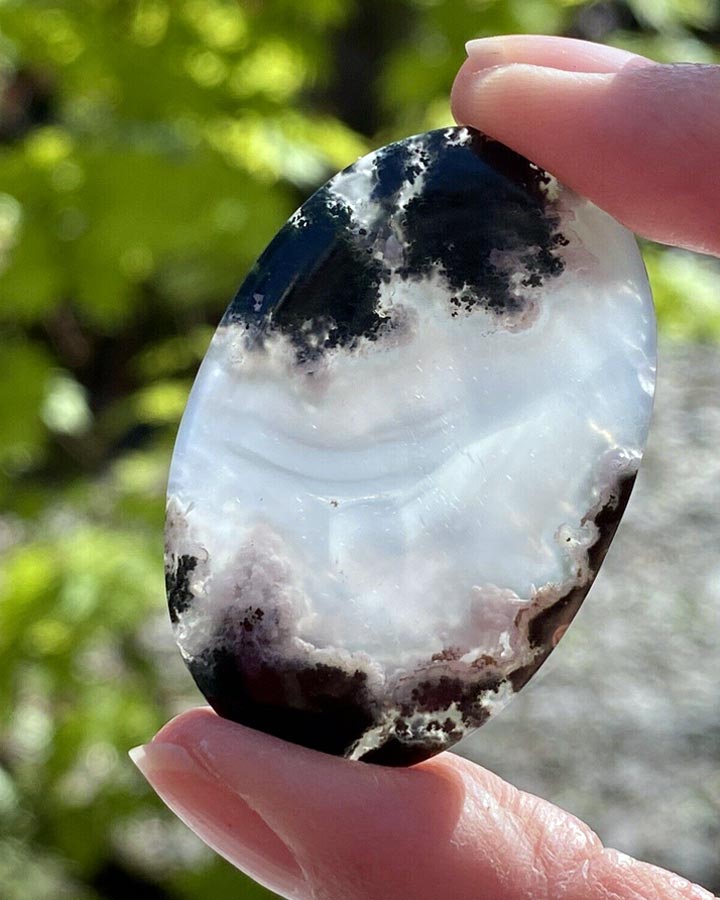 CHAKRA // HEART
ZODIAC // VIRGO
PLANET // MOON
ELEMENT // EARTH
SACRED NUMBER // 1
VIBRATION // EARTHY

PROPSPERITY * HEALING * RESTORATION * ABUNDANCE * SUCCESS * CONGENIALITY * COMPATIBILITY * RESTORATION * PROTECTION OF TH EARTH * CREATIVITY * CONFIDENCE * STRENGTH * DEVELOPMENT OF NEW FRIENDSHIPS * FINDING A COMPATIBLE LOVER
THE STONE OF NEW BEGINNINGS
MOSS AGATE is a stone of new beginnings, it is a very spiritual stone with a strong ability to ground access spiritual energy, down through the base and earth chakra to Mother Gaia. It refreshes the soul and enables to see the beauty in all we behold. It befits us with an abundant nature and improves our self-esteem. It helps us express ourselves and our feelings and can aid in communication. It can assist in the lessening of pain and speed up the recovery from illness.

MOSS AGATE belongs to the group of quartz and oxide minerals and contains the healing properties of both agate and chalcedony. Despite the name Moss Agate it can be found in black, red, brown, yellow and blue.

MOSS AGATE is stunning when sold as lapidary slices or shaped as cabochons, it often features opalized pockets and dendritic areas making each piece look like a landscape or work of art. I find these so amazing to behold with each one harnessing a quietness and a beauty within that I have many in my collection.

MOSS AGATE is found in many places including Australia, Russia, Indonesia, India and the USA.
AGATE
STICK AGATE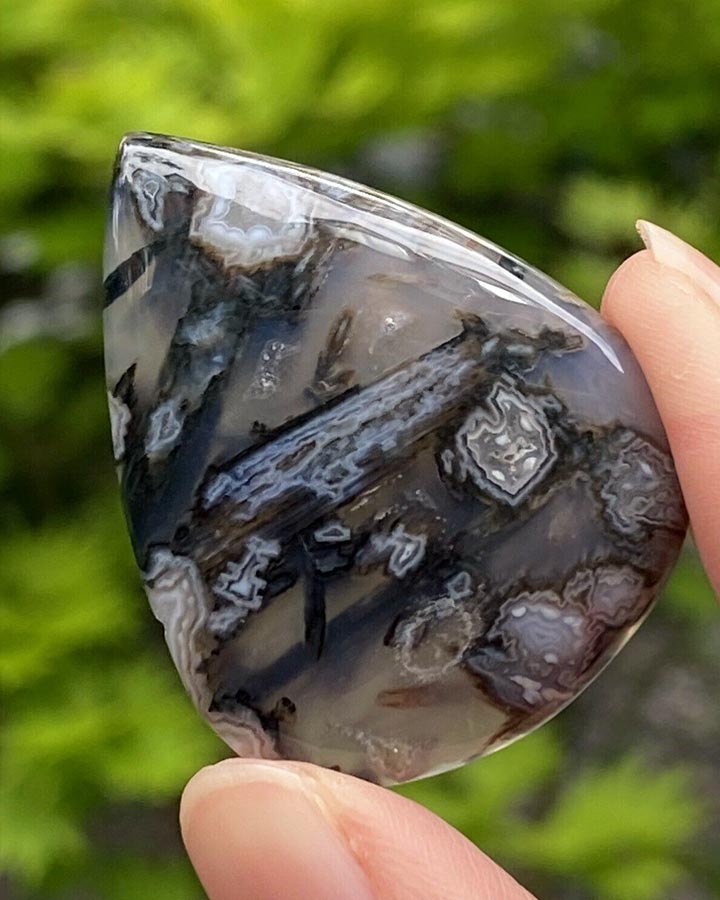 ZODIAC // GEMINI, VIRGO
PLANET // MOON
ELEMENT // EARTH
SACRED NUMBER // 7
VIBRATION // EARTHY, HIGH

ABUNDANCE * SELF ACCEPTANCE * CONFIDENCE * OVERCOMING NEGATIVITY * LOVE * COURAGE AND STRENGTH * PROTECTION * SECURITY * BALANCE * HARMONY * GENEROSITY * APPRECIATION OF NATURE
THE STONE FOR OVERCOMING NEGATIVITY
STICK AGATE is an interesting agate from Turkey which is decorated with a variety of intriguing patterns and colours with needle like tubes forming what look like pointy, sharp sticks within the stone, so it can be referred to as needle agate.

STICK AGATE is a very beneficial crystal for self-analysis and in uncovering hidden circumstances that might interfere with well-being. It promotes self-acceptance and confidence and encourages the speaking of one's truth.

STICK AGATE overcomes negativity and bitterness of the heart, by healing anger, fostering love and lending the courage to start over.

STICK AGATE is a beautiful and decorative form of agate.

STICK AGATE is found in Turkey.
AGATE
TURRITELLA AGATE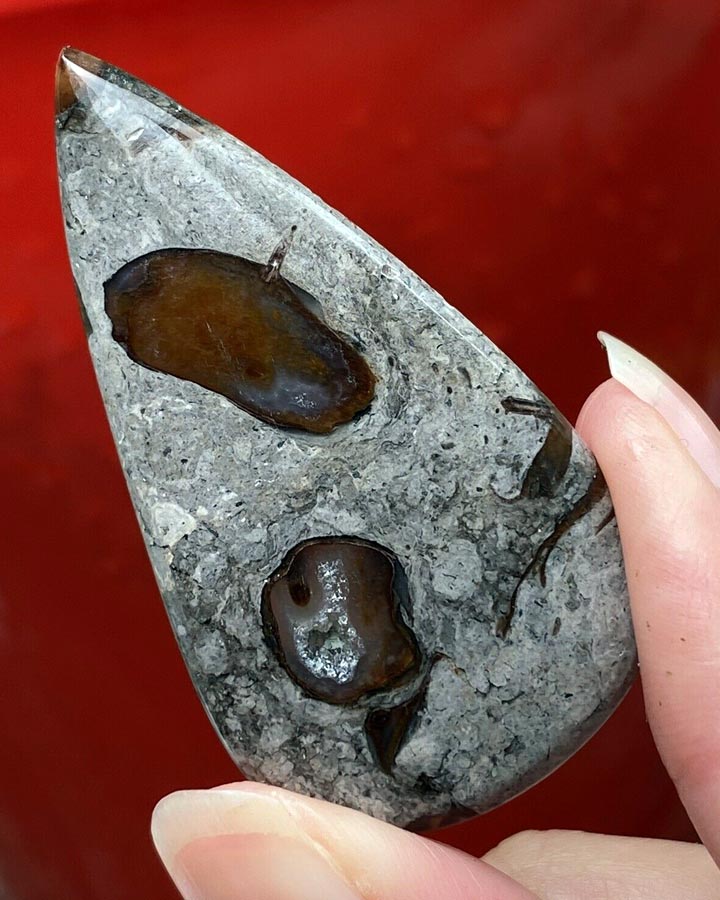 ZODIAC // TAURUS, CAPRICORN, VIRGO
PLANET // EARTH
VIBRATION // EARTHY, HIGH

SURVIVAL * HEALING * INNER KNOWING * GROUNDING * BALANCING * STRENGTHENING * SPIRITUAL * ANCESTRAL HEALING * ANCIENT WISDOM * PERSONAL PROTECTION
THE STONE OF THE ANCIENT WISDOM SEEKER
TURRITELLA AGATE is a deeply spiritual crystal, which is connected to the soul of earth and home. It contains strong links to our ancestry and homeland and it offers us strong personal or environmental protection. It is a stone of survival, a giver of strength and protection.

TURRITELLA AGATE helps exploration into personal roots and ancestry, even into discovering past lives. The ancient wisdom held within helps with discovering an inner knowing and healing. An earthy stone that grounds, balances and strengthens our inner core.

TURRITELLA AGATE is found in the USA.
AGATE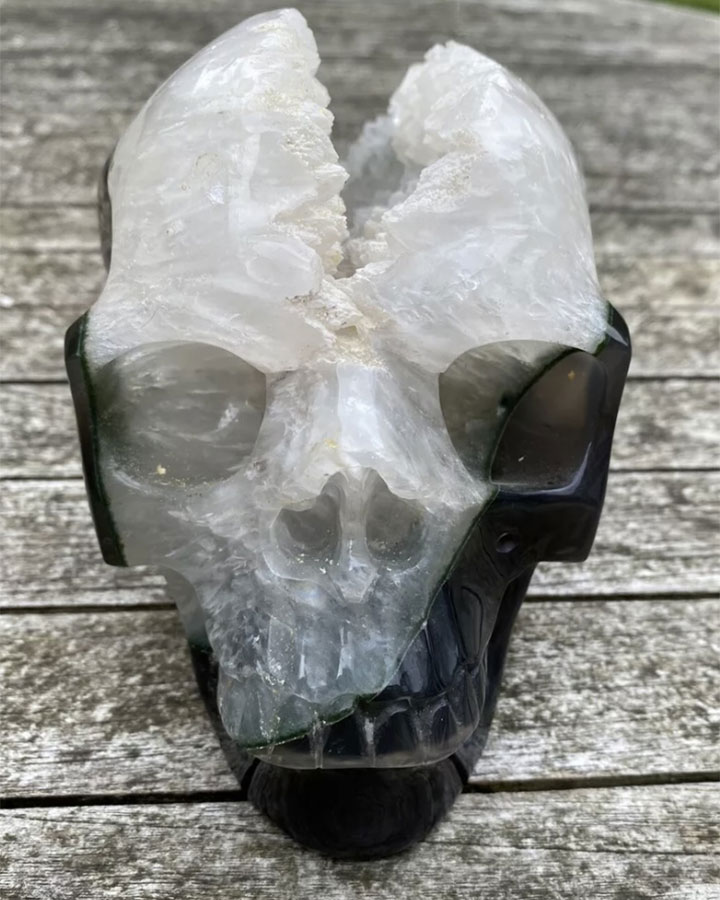 CHAKRA // BASE
ZODIAC // GEMINI, VIRGO
PLANET // MOON
ELEMENT // EARTH
SACRED NUMBER // 7
VIBRATION // EARTHY, HIGH

STRENGTH * PROTECTION * LOVE * ABUNDANCE * WEALTH * GOOD LUCK * LONGEVITY * ACCEPTANCE * COURAGE * SAFETY * BALANCE * HARMONY * GENEROSITY * RESILIENCE * CLARITY * SOOTHING * CALMING * SECURITY BLANKET
THE STONE OF STRENGTH AND PROTECTION
AGATE can be found in many forms and many colours, it can be banded, druzy, it can have a creamy texture to it. It is a banded variety of the mineral chalcedony and its distinct layers are often best shown off once cut of polished. It is often carved into a variety of shapes, my favourite crystal skull is made from agate with the druzy crystal being used very effectively to give a haunting look to the piece. Agate, with its mixture of bands can be both opaque and translucent.

AGATE is an excellent stone for harmonising the mind, body and spirit. It is a stone to keep close whenever you feel vulnerable or in need of a security blanket. Agate is the stone for when we are walking through life's shadows. It is a magic maker that tells us to step bravely out of the shadows and embrace life's dark situations. Agate will give you the courage, protection and strength you need to combat these times. It will teach you resilience and that life's dark situations are also a time of growth. It is a stone that helps support and protect those of us who want to work as lightworkers.

AGATE works by rebalancing our chakras and bringing clarity to the mind by enhancing our mental function, improving concentration, guiding perception and our analytical abilities. It soothes and calms, dissolves and healing inner anger or tension. It gives us a sense of security.

AGATE is not a stone I have ever thought I was drawn to but as I look around my home and workspace, I see I have acquired many pieces, large, small and attractive. Many have lived with me for years. As I write about Agate, this stone, that doesn't excite me as much as some, I realise this crystal is the comfy slippers of my life, rather than the towering heels my head it drawn too.

AGATE can be dyed into blue, purple, red, pink, yellow, even the browns can be enhanced.

AGATE is found worldwide.