The Finest Quality Crystals and Minerals - Pretty Little Healing Crystals - Over 7000 Exclusive Healing Crystals From Around The World Order Online Global Shipping
Our Blog
Magnificent Malachite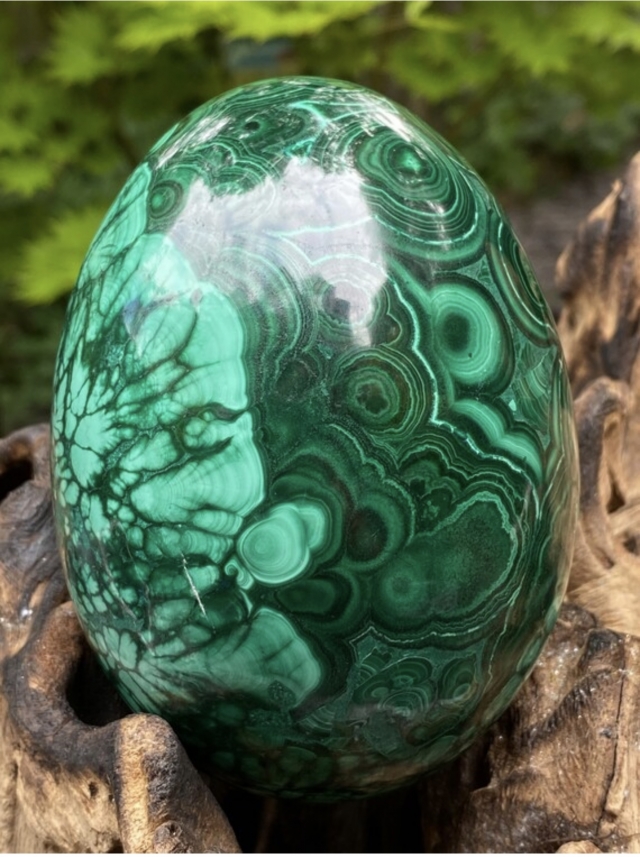 Today's blog is about an old favourite of mine. The first stone I wore as jewellery. Years ago as a youngster I got a silver and malachite necklace, to this day it's still a favourite.
The History of Malachite
The luxuriant, swirling patterns of malachite have striking light and dark green marbling that is unmistakable. The startling beauty of this stone has come to represent sensuality and beauty.
Malachite, pronounced (Mal-ah-kite), probably derives its name from either Greek malhe, meaning grass for its green colour or Greek malakos, meaning soft because the stone lends itself well to being carved. With its concentric, eye-like rings of green that mimic the eye of a peacock feather, this stone has captured the imagination of many cultures for ages, and has been described by poets as spring grass swaying in the wind.
The first culture to use malachite for adornment was ancient Egypt around 4,000 BC. The Egyptians used malachite as an ornamental stone in jewellery and art. The stone was imported from King Solomon's infamous copper mines on the Red Sea. Archeologists have found Egyptian tomb paintings using malachite gemstones that had been ground into paint that coloured the walls. It was also ground into a fine dust and mixed with galena, a thick paste used to make kohl, on slate palettes to be painted onto eyelids as a cosmetic and talisman against evil. Vivid green malachite kohl is believed to be Cleopatra's favourite cosmetic, and she was buried with a large vase of it for use in her afterlife.
Malachite also played an important role in European paintings during the Renaissance period of the 15th and 16th centuries as a pigment for paints and dyes. It is believed that many of the green colours found in Michelangelo's Sistine Chapel painting were painted with malachite-based oil paints.
One of the most common uses of malachite from the medieval through the Victorian times was to hang small pieces of malachite dangled from baby cribs and children's beds to help keep evil at bay, and to help children have peaceful sleep.
It was the Russian Romanov dynasty, however, that really made malachite synonymous with outlandish luxury. High quality malachite, discovered in 1635 in the foothills of the Urals, had become very fashionable for jewellery by 1820 and was frequently paired with gold and diamonds. In 1835, a malachite boulder of the highest quality was discovered that would take 21 years to unearth and bring to the surface.
Slabs from this 260-ton gem were used to adorn the interior of two Russian palaces; creating malachite pillars, columns and encased walls. This same boulder also supplied enough malachite to encase eight of the ten huge Corinthian columns that support a two-hundred foot tall gilded altar in St. Isaac's Cathedral in St. Petersburg, Russia.
Malachite Metaphysical Properties
Malachite is the essence of joy and is known as the "stone of transformation" because it helps reveal and heal emotional pain by absorbing the pain into itself. It is especially helpful in bringing ease during times of change and gives the insight needed for personal growth.
Just looking at malachite's swirls, rings and intricate marbling is rejuvenating and uplifting. It can help a person get through tough transitional periods. This is a wonderful, empowering stone to wear when starting a new project or job or moving to a new home.
A favoured tool of alchemists and healers back in the day, Malachite has proven its worth over centuries when it comes to imparting wisdom on the body.. It's a stone known to keep blood pressure on the down low and its calming nature certainly helps this. Malachite also works in harmony with the bones, encouraging quick healing for broken bones, torn muscles, and problems with the joints.
Thanks to its strong feminine energy. Malachite is also a stone that lends a hand to period problems like menstrual cramps and making the body flow in better harmony when it comes to labor pains. It has earned its other name as the Midwife Stone.
Malachite is an amazing stone at helping diminish fears, not just in an emotional way but also in helping the body deal with the pounding heart and sweats that can accompany resistance to change and phobias. This is perhaps how Malachite also earns its reputation as being a talisman for travellers, particularly those who fear to step on airplanes or who suffer from travel sickness.
Malachite has been traditionally used to ward off danger and fight illness. It has been said to protect against falling and has been wrapped over bruises and broken bones to help with tissue regeneration and healing. Malachite tends to draw negative energy and disharmony into itself. Periodically recharge your malachite's energy by placing it on a clear quartz cluster, then rinse with cool, clean water.
When it comes to emotional healing this is where Malachite amps up its powers. One of the strongest elements that flows from Malachite is its immense powers of protection. Malachite is all about flushing out toxic emotions, clearing away unwanted energies, and ensuring that those negative vibes stay 6 feet away at all times. It gives you courage, wisdom, and the ability to spot and say no to all kinds of emotional blackmail. It's a stone that sends a warning bell when things aren't as they seem, which in turn grants you the inner strength and confidence you need to know that no matter what, this stone will teach you how to have your own back without the paranoia.
When it's not busy sweeping the path of poor energy, Malachite is all about giving you the capacity to embrace change.. It's also known as the Stone of Transformation. Malachite gives you a daily dose of courage, invites you to step out of your comfort zone, and serves up a savvy reminder that to move forward in life, there are some things you may need to leave behind. It does this without letting go of empathy or losing balance, but somehow keeps you centred, calm, and able to approach emotional decisions with ease and grace.
Overall, malachite is said to bring harmony into one's life. Wearing it can assist in the manifestation of the heart's desire and strengthen intuition.
Malachite Geological Properties
Malachite is a striking green marble-like stone that is mainly a hydrous copper carbonate compound. It is the copper content of malachite that gives it the green colour. This green, which shares many properties with turquoise, is a form of copper tarnish similar to that found on the copper Statue of Liberty.
The more water that is in the copper, the lighter it will be and the smaller an amount of water will make the green darker. The absence of water completely will produce a black striping. When polished, it has a silky lustre, but resins are usually used to enhance this shine as well as protect the surface of the stone.
Proper Care of Malachite
Malachite is especially fragile, easily scratched and can become dull. So protect it from scratches, sharp blows or large temperature changes that will fracture, shatter or chip it. The surface of malachite is usually fortified with artificial resin. Do not clean malachite in a home ultrasonic cleaner because the protective resin surface can be damaged or removed.
Malachite is sensitive to heat, acids, ammonia, and hot waters. Rinsing malachite in clean water is safe. Let it air dry and store away from other metals or gemstones that might damage the surface. Remove malachite jewellery when doing heavy work that might scratch it such as gardening or mechanics.
Malachite is a green copper carbonate mineral. It is part of the monolithic crystal system and has a silky lustre. Malachite is often used as an ore of copper, it has an opaque transparency and sometimes has a patterned surface. Malachite is a rich shade of green and its meaning is transformation and positive change.
Back